<! - Page Contents Begin Here - >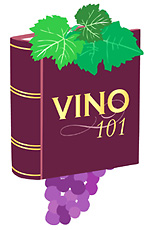 Grape Expectations (Part Two)
By Jorge Eduardo Castillo
The first installment of this three-part article provided a broad flavor profile of the most popular white grapes and how they can best be used in food pairings. Now in Part Two, we focus on the red grapes and the foods with which they work best. As mentioned in Part One, these descriptions are broad generalizations, and characteristics will often differ based on geography, procuder and the variety itself. If you find a particular bottle that doesn't match the flavor profile I've offered, use your instincts as to which foods will go best with that particular wine.
Red Wines
Cabernet Sauvignon Cabernet-based wines have the reputation of being full-bodied wines showing rich fruit and are usually exposed to oak. The range here is vast however, as Cabernet can also show as medium-bodied and complex, especially if it is aged more than 10 years. For the sake of keeping it simple, we'll concentrate on the two most common types of Cabernet Sauvignon-based wines:
Full-bodied & fruit-forward: Napa Valley, CA has quickly become the hot spot for intense and fruity Cabernet and other areas in the U.S. (i.e. Sonoma, Washington) and Australia are producing great wines as well. These wines can be so powerful and tannic the juice will coat your entire mouth and might even turn your teeth purple. Usually exposed to new American oak, the tannic structure from wood that is present on this type of Cabernet gives it structure and makes this wine very useful with food. With powerful cherry, raspberry, currant, plum, and even chocolate notes, these Cabernet-based wines will generally need to accompany richer dishes in order to optimize enjoyment. I would also recommend decanting just about any big Cab to give it air and balance the flavors, otherwise the intensity of the wine might overpower the flavor of any food. When pairing wine with food, keep in mind that tannin works well with fat and richness and becomes overpowering and harsh with highly acidic foods. To best use this type of Cabernet, think red meat, reduction sauces and pressed cheeses.
Complex and elegant: Cabernet-based wines in the style of French Bordeaux are famous for having complexity, sophistication, and unique flavors, depending on the producer. The French have been perfecting the art of wine-making for over 500 years, so, weather permitting, they pretty much have it down to a science. There is such a broad range of flavors in these wines, there are just too many to list, but here are a few: cherry, tobacco, herbs, coffee, earth, mint, and roasted tomato. With these wines, the secondary aromas and terroir are as important as the fruit to the overall enjoyment. Many Italian, Spanish and a handful of U.S. wineries are known for producing this style of Cabernet as well. You can pair these wines with many different dishes. Focus on those secondary aromas to lead you to the best matches for food. Think: steak, game dishes, hearty pastas, lamb, venison, salmon, tuna, mushrooms, cheese, and many other types of food.
Merlot Currently the world's most popular red wine based on sales, Merlot can be very approachable and fruit-forward or rich, dark and tannic. Based on its popularity and mainstream appeal, many use lighter style Merlots as cocktails, without the need for food. Merlot will generally show cherry, berry, currant, olive and chocolate flavors. Richer styles of this varietal can possess big structure, strong tannins, and may see heavy oak. Produced in just about every major wine-making area of the world, Merlot can be paired with beef, lamb, duck and some cheeses.
Pinot Noir Known as one of the hardest red grapes to grow effectively because of its thin skin, the quality of a Pinot Noir depends heavily on climate and soil, as well as the skill of the winemaker. The Burgundy region in France is famous for producing the most elegant and complex Pinots in the world, demonstrating a red fruit quality paired with earthy richness. Many U.S. producers, specifically in Oregon and some spots in California, are producing more fruit-forward Pinots that can also be surprisingly powerful. One characteristic most bottles of Pinot will exhibit is the aroma of rich red or black cherry on the nose and a good Pinot should have a velvety feel in your mouth. Since this grape is so finicky and is dependant on the climate and soil for quality, there is a broad spectrum of flavors you may find in a bottle of Pinot Noir, including strawberry, raspberry, currant, cream, tobacco, tomato, herbs, spice, vanilla, and cedar. When using Pinot Noir with food, I would recommend fattier fishes such as tuna and salmon, lighter pork, veal, and game preparations and mild cheeses.
Zinfandel This grape is mainly grown in California and can present great value when compared with higher priced reds such as Cabernet and Pinot Noir. Not to be confused with White Zinfandel, Zinfandel (often called 'Zin' for short) is fairly flexible and can range anywhere from light and fruity to highly concentrated and spicy with full tannins. High sugar content makes this wine very approachable, and a good Zinfandel producer will usually have a number of different bottlings that often represent good value. With flavors of red and black berries, plum, raisins, spices, pepper, and chocolate, Zin can be used with many dishes including beef, lamb, venison, pasta with red sauce, duck and especially any spicy dish or roasted pork.
Syrah/Shiraz Called Shiraz when grown in Australia, and, with a few exceptions, Syrah everywhere else, this grape often exhibits a roasted or baked red fruit quality that is very unique. Australian Shiraz tends to be a little sweeter and fruit-forward, while Rhone (France) and American Syrah tends to be on the medium-bodied well-balanced side. The representation of this wine can vary greatly based on its exposure to oak. Wine experts vary in opinion with how to use this wine with food, but I find that you're usually safe with red meat dishes and cheese courses.
Sangiovese The primary grape in Chianti made in Tuscany, Italy, Sangiovese can be one of the most approachable reds, which is why many people choose it as their everyday table wine. A good Sangiovese-based wine will be medium-bodied, and exhibit rich fruit, ranging from black cherry to plum/berry with a little bit of earthiness to balance it out. While it's somewhat a cliché, traditional Italian pasta dishes with tomato sauce match well with Sangiovese.
While these certainly aren't all the red grapes out there to be enjoyed, these are some of the most common varietals you will find on restaurant wine lists and in wine shops across the country. We'll explore the less common grapes in future articles. Be sure to keep an eye out for the third part of this article: Sparkling and dessert wines.
July 19, 2006
Jorge Eduardo Castillo is a representative of Vino 101, which provides on-line server wine training.
Visit www.vino101.com for more details.
Back to the Vino 101 index page