<! - Page Contents Begin Here - >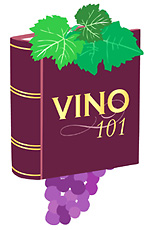 Matching Appetizers with Wine
A Server's Perspective: Soups
By Jorge Eduardo Castillo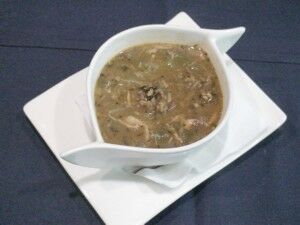 The second installment on the series A Server's Perspective continues to concentrate on appetizers. As warm summer days become breezy and cool autumn afternoons, restaurants take advantage of the seasonal ingredients of the fall harvest and offer warm comfort dishes to customers walking in with scarves and gloves ... and stomachs that need to be warmed up. In this article we will cover a favorite fall offering: Soup.
Whether you work for a Michelin 3-star restaurant or a friendly chain eatery, your establishment is likely to offer a variety of soups as starters. Lots of fresh produce becomes available during the fall, including tomatoes, mushrooms, sweet corn, fava beans (and beans in general) and several varieties of squash such as spaghetti squash, pumpkin, and acorn squash. Some summer vegetables also develop more intense flavors when allowed to ripen in cool weather, such as carrots, broccoli, and cauliflower. The fall season also heralds the beginning of the oyster harvest, and you can expect to see oysters as an ingredient in cream-based chowders, along with other bivalves like clams and scallops.
CREAM OF THE CROP: You guessed it! What these soups share in common is that they are finished with a dose of cream after they are pureed. Depending on your establishment, cream might be used sparingly, as is the case with a good butternut squash soup. In this instance, choose a wine that serves a supporting role since the soup flavors will be quite delicate; so don't go recommending the fattest, oak-laden chardonnay you have in the house. Squash and pumpkin soups generally show hints of spice like: cinnamon, mace, nutmeg, allspice (Jamaica pepper), and even cloves. Recommend a high-toned wine with modest to low acidity here, like a Torrontes, a Soave, or a Tokay Friulano.
If your establishment lacks these wines, go for an off-sweet Riesling (Auslese). These wines show high-toned fruit aromas, like honey, honeysuckle, chamomile, and white rose petals; all of which complement the starchy low tones of the squash and accent the spice fragrances, without taking over center stage (Try these wines with carrot soup too).
Another typically lightly creamed soup/bisque is Tomato. Because of its natural high acidity, tomato soups require slightly more acidic wines with a bigger body, and some, albeit very light, tannins. My first instinct is a Sangiovese-based wine, but one with floral aromas, hence Chianti comes to mind because of the floral white grapes (Trebbiano and Malvasia) that are allowed in the blend. If your guest insists on white wine, bring him Champagne or a chardonnay-based sparkling wine (Any excuse to drink bubbly is fine with me!).
CREAMIEST OF THEM ALL: These include soups that are finished with a hefty dose of cream. Think of cream as lactic acid (a light acid with a dairy character), so you know you are going to need a wine that can stand up to it. Generally, wines go through malolactic fermentation, which converts the natural malic acid, which is sharper, to the more mellow lactic acid to soften the wine. Here, look for wines that have not undergone this transformation. For Cream of Crab, Lobster, Corn, and Seafood Chowders, a big buttery Chardonnay from Carneros (California) or Mersault in Burgundy will be a fantastic match.
For Cream of Cauliflower and Cream of Broccoli, a fat, herbal, grassy Sauvignon Blanc from Marlborough (New Zealand) will do. Cream of Asparagus is perhaps the hardest match. You need a big Rhone white, preferably a Marsanne. You might be able to get away with a really huge Sauvignon Blanc as well. These two wines will complement Cream of Pea soup also. Cream of Mushroom calls for an earthier type of wine: A meaty, Burgundian Pinot Noir from the Côte de Beaune will be a match made in heaven.
OTHER SOUPS: Stock-based soups such Vegetable soup, French Onion soup and Minestrone can be enjoyed with lighter reds. If the stock is chicken or beef-based, you are going to need a slightly more tannic wine because of the collagen. French Onion soup loves a good Malbec or a Chianti Classico Riserva. A Primitivo (the Italian equivalent of Zinfandel) is not a bad idea either. Lighter vegetable soups are complemented well with Beaujolais or Dolcetto. Finally, if you are pairing a vegetarian style soup, think light, fun and floral. Anything too big will overwhelm the palate and all you will end up tasting will be the wine and not the soup.
HOW TO SELL IT: Use the information provided above to paint a collage of flavors and delectable pleasures for your guests. Ask your manager if you can sell half-glasses of wine instead of full-size pours. This offers a win-win situation, as your guest can have just enough wine to finish his soup without committing to buy a full glass. In my experience I have been successful 98 out of 100 times selling half-glasses when I get the feeling my guests are light drinkers.
When possible, try to taste each soup with the recommended wines and get feedback from your guests on the pairings, and remember that these are only guidelines. You should always follow your palate since specific ingredients can transform a soup from its traditional taste to something completely different. Most important, be assertive and enthusiastic about the magic that will occur if your guests follow your advice. Until next time!
Cheers!
If you have any comments about this article, or general questions about wine and food service for restaurant professionals, feel free to E-mail me at jcastillo@vino101.com.
Oct. 15, 2006
Jorge Eduardo Castillo is a representative of Vino 101, which provides on-line server wine training.
Visit www.vino101.com for more details.
Back to the Vino 101 index page