Fire the Imagination
© by Linwood Slayton
I have had the pleasure of attending and hosting numerous wine dinners over the last several years. I have come to expect a certain level of excellence as my tastes and palate have evolved. I had the privilege of attending a delightful wine dinner this month, and the experience motivated me to pen this column.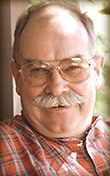 Jed Steele is the winemaker/owner of Steele Wines, whose Website has a quotation on the home page that mirrors my sentiments about life precisely:
"Two things that most readily fire the imagination:
making love and drinking wine."
The Steele wine dinner was hosted by Agave restaurant, one of my favorite places to dine and enjoy well-seasoned and prepared food in Atlanta. Southwestern cuisine is the customary fare and Owner Jack Sobel and Executive Chef Ben Duckworth combine to provide a fine dining experience day in and day out.
This evening was special. Jed Steele was present and his passion and love for his wines set the tone for a great dining experience. My friends at Agave outdid themselves on this unseasonably cold and windy November night.
I was licking my lips in anticipation when I first perused the menu and pairings:
On arrival:
Steele 2000 Mendocino Pinot Gris
With Maryland crab, shrimp and crawfish cake over a poblano tartar with mixed citrus organic greens and red pepper drizzle:
Steele 2001 California Cuvee Chardonnay
With fresh domestic herb and chile encrusted rack of lamb over Yukon Gold mashed potatoes, grilled asparagus and jalepeño corn bread:
Steele 2000 Catfish Vineyard Zinfandel
With homemade sweet potato and praline pie on a flaky crust with maple drizzle and cinnamon whipped cream:
Steele 1997 Select Late Harvest Chardonnay
I am a wordsmith and I love writing that stimulates and creates a visual and sensory picture. As I said, just reading and anticipating the food and wine pairings had me primed for a good time. I was not disappointed in the least bit.
The evening began with a brief but enlightening and informative talk by Jed Steele. He talked briefly about the wines we would be drinking and did so in a way that everyone could understand and appreciate. There was no mention of "terroir" or technical lingo that some winemakers and so-called experts like to bandy about. Rather, he just chatted about his vision and his love for making wine. He explained that he likes to make blends as his vineyards span a distance of some 450 miles in Northern California from Mendocino to Santa Barbara and each has different climates and soil conditions that yield distinctive grapes.
The aperitif was a 2000 Mendocino Pinot Gris that everyone thoroughly enjoyed. It was crisp and had a distinctive citrus feel and taste. It had a distinctive grapefruit finish that was pleasant and refreshing. Many of the folks with whom I sat during the evening indicated that they really liked this wine. We learned that "gris" means "gray" but in wine parlance it refers to "shadow" in that the Pinot Gris grape is grown in a cooler climate and is a ruddy colored grape.
As we were served the first course the 2001 Steele Cuvee Chardonnay was poured. This wine was a blend from seven of the Steele vineyards. The wine was smooth and had a soft taste and feel. In some ways, however, it was enigmatic as I found myself unable to get a clear sense of its character and portrait. I asked the folks at the table with me whether they were able to pinpoint the taste and they also had some difficulty doing so. I spoke with Jed Steele and shared this impression and he quickly indicated that this was the true nature of a blended Chardonnay as opposed to a single vineyard selection.
I can tell you that the food pairing was superb and the wine was an excellent choice given the many flavors in the citrus organic greens and the perfectly seasoned crab, shrimp and crawfish cake. At this point in the evening, everyone knew that the product indeed matched the hype created by the written menu. This was a case of the food not being overpowered by the wine and the wine blending well with the diverse range of flavors the food presented.
On to the main course!
The 2001 Steele Catfish Zinfandel was poured as the entrée was being served. This wine was surprisingly soft and exhibited more of a Pinot Noir taste and feel. It had a diversity of fruit and berries but had little of the earthy and rustic feel of old vine Zinfandels. I thoroughly enjoyed this selection and noted that it is a wine that I could and would enjoy with or without food.
Agave'S chile-encrusted rack of lamb was exquisite. Chef Ben Duckworth and Owner Jack Sobel outdid themselves with this creation. This was a dish that was so good that "it made you want to slap your mamma" as we like to say in the black community when we affectionately describe food that otherwise defies description.
The lamb was seasoned well with no discernible peppery taste yet you could and did taste the chile encrusted effect. There was a taste of rosemary as well. I'd be remiss if I didn't extol the virtues of the Jalapeño cornbread. This was a big hit at our table. Ladies who customarily decline any bread could not resist the cornbread which was sweet but also had a touch of spice. The lamb and the Zin worked extremely well together. So much so that I found myself taking smaller and smaller pieces off of the bones as I worked my way through the plate. I knew that this was not a meal to devour hastily as it was intended and designed to be savored.
One reason that I enjoy wine dinners so much is that I don't have an urge or desire to drink the wine too heartily knowing that another selection is forthcoming. This forces me to slow down and enjoy the subtleties of the wine as it balances the food with which it is paired.
With a measure of regret, the last of the main course was gone and we awaited the dessert. Some of us declared that we were full and there was just no more room for any more food. Besides, there was no way that this meal could get any better. Wrong!
The last course was indeed well worth the buildup. The sweet potato and praline pie was unlike my Mom's and anyone else's that I have tasted. It was outstanding; sweet but not excessively and light going down. The Steele 1997 Select Late Harvest Chardonnay was a fitting finale. I always look forward to the dessert wines as these are wines that I do not typically buy or enjoy with meals at home or in restaurants given price and consumption capacity considerations. I have grown to appreciate late-harvest wines for their complexity and their special nature. This late-harvest Chardonnay did not disappoint me at all. My dinner companion said it better than I could when she exclaimed "this is like milk and cookies!" Enough said!
As always is the case, the evening had to end and, as the table was being cleared, we sat back and just savored the entire experience of the evening. That's what a good wine dinner is all about isn't it? Good people interacting and sharing a common experience together over quality food and wine. Life is so good!
Wood
Nov. 14, 2003
Check out THE WOODSHED at http://pages.zdnet.com/linwood/woodshed2004/

Back to the Wood on Wine Index
<!- Page Contents End Here ->