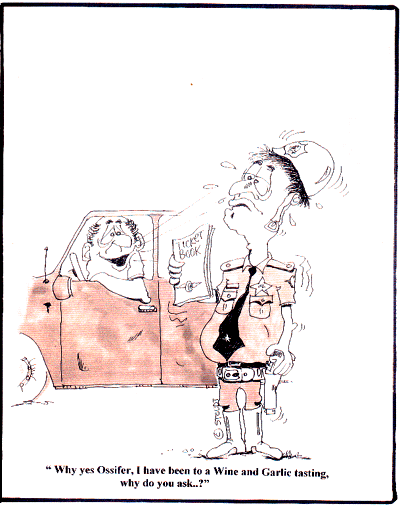 These Wine 'Toons are by Georgia cartoonist, craftsman and wine lover Chuck Stoudt.
Chuck says,
---
I started drawing so long ago, it seems impossible to trace...when I was twelve, I contracted Polio and was totally paralyzed for seven months. My Glorious Mother was at my bedside when She wasn't working all day and kept saying to me that I would not be paralyzed because I had cartoons and drawings to do to make SO many people happy, I still hear that Voice today.

I spent four years serving the U.S. Navy and thirty-seven years with AT&T, have two wonderful Children and the most fabulous Wife that a man could ask for, She is my hero!

We love gourmet cooking, sailing, shooting and shopping together, I taught various martial arts over the last thirty-five years, the most favorite being aikido. Living and loving in Atlanta, Georgia.
---
If you'd like to comment on Chuck's 'toons or suggest ideas for a future panel, click here to send him a message!

---
Previous Wine 'Toons: (Click the small cartoon to see a larger image.)
"Wow, now that is really light."

"Let's see ... white or red?"

"Has anybody seen my contacts?"

"So what's wrong with
a good Zin with Chicken?"

"Congratulations ... Your first CORK!"

"Yes Father, I have ZINNED ...
they were all out of Merlot!"

"SIR ... We provide the container!"

"There are NO passengers ...
It's full of California wine!!!"

"A true 'PINOTFILE'"

"He said, he didn't taste
the fruit last time!"

"'Uhhh ...'"

"No thanks, Bob ...
that's too dry for me ..."

"Endangered Tree List."

"Yes, he is single, but
he thinks he is a
1935 Chateau Lafite-Rothschild."

"You need to get yourself
a thicker glass."

"Sir, I do have a tool for that."