GETTING STARTED | WINE NOTES | SEARCH SITE | DISCUSSION FORUMS | 30 SECOND WINE ADVISOR | CONTACT US

<!TODAY'S TEXT STARTS HERE!>

Happy New Year 2000!

With my usual focus on affordable wines of value, it's a rare thing for me to indulge in truly expensive bottles. But a New Year's Eve as special as this one deserves extraordinary notice, and we gave it that, sharing a few very special wines with a small group of old friends. So to ring in the New, we enjoyed a fine, mature first-growth Bordeaux; an exceptional Champagne from an oversize bottle; and maybe best of all, a great Port of my precious wife's birth year.

It should go without saying, but I'll say it anyway, that knowingly drinking purportedly "great" wines in a festive social setting is far from analytical, and I'm sure the event and the company influenced our enjoyment of these wines. I can only add, er, "What's the matter with that?"

Here's the evening's report: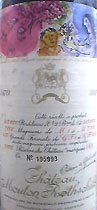 Château Mouton Rothschild 1970 Pauillac (Gift; current auction value about $150-$200)
Two separate bottles of this wine, purchased at the same time (New Orleans, 1978) but stored separately by Fithian and Barrett Shaw, offer a dramatic if anecdotal illustration of the importance of temperature in cellaring. Fithian's bottle remained in his small but fine wine collection stored in a cool basement where temperatures, even in Louisville's summers, rarely went over 70F, until he gave it to us this past autumn. His sister Barrett had kept her bottle at ambient room temperature, which often rose over 80F. While I've often preached that ambient-temperature storage isn't a serious concern for young, robust reds for a few years, the difference in storage of these wines for more than 20 years apparently took its toll.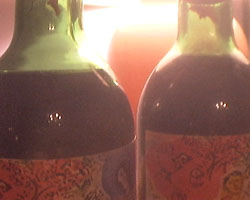 As seen in the photo at left, Fithian's bottle (on the right) has an almost-normal ullage (air space), at the level that a wine appraiser would call "high shoulder fill" and not significantly larger than a new bottle, while Barrett's bottle has a visibly larger ullage, "mid-shoulder fill" at best. Although low fills don't necessarily mean the wine is spoiled, they do typically reduce its value at auction.
In fact, neither of these wines had been cellared under ideal storage conditions (55F), and perhaps significantly, both bottles showed substantial signs of seepage under the capsules.
The difference in tasting, in fact, was significant, although both wines remained drinkable and even fine.

The wine from the fuller bottle was a limpid garnet in color with surprisingly little browning; it was still quite clear at the edge. Blackcurrant and light stewed-fruit aromas and cedary herbaceous notes bespoke a wine still well within its prime, with a bit of old-bottle funk that blew off quickly to reveal a clean, tart wine with good acidic balance, its tannins resolved but certainly holding up well.
The second bottle showed some effects of warm storage: Noticeably darker in color than its twin, it was somewhat maderized, with pruney and slightly Sherry-like aromas. Even so, it was still quite enjoyable, with black fruit and herbal notes remaining dominant, and if anything seemingly a bit more rich and full than its partner. U.S. importer: The Buckingham Wine Corp., NYC. (Dec. 31, 1999)
FOOD MATCH: Various cheeses and patés went well.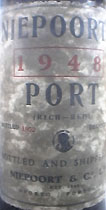 Niepoort's 1948 Port ($500)
There's a warm Wine Lovers' Discussion Group story behind this wonderful wine, which I purchased almost on a whim - albeit an expensive whim - after an E-mail conversation with Luis Antunes in Lisbon, who located the wine and bought it for us, after which Dave Conway, bearing my check for Luis, picked up the wine on a family vacation to Portugal and went out of his way to see that it got into our hands for New Year's Eve. Many thanks to you both!
The wine, labeled as bottled in 1952 and "decanted" in 1973, which I assume means that it was transferred into a new bottle and recorked at that time, held surprisingly little sediment, and after I left it standing up for two weeks before serving, was decanted without incident, only about a tablespoon of wine being lost to sediment at the bottom of the bottle.
It looks almost like a tawny after all these years, a clear, dark brownish ruby color. In aroma and flavor it was not unlike younger Vintage Ports, but more so, with rich stone fruit and mixed nuts on the nose and palate; amazingly delicate and intense, with its tannic astringency fully resolved, it was sweet, strong and smooth, with an incredibly long finish, and we all wished we had two bottles or maybe three. (We saved a very small taste for tonight, curious to see whether after all these years it has 24 hours' staying power after exposure to air.) A truly wonderful wine, and my bride, who has her suspicions about the price, was sweet enough not to bring it up. U.S. importer: Hand-carried from Portugal. (Dec. 31, 1999)
FOOD MATCH: Fine with Stilton and other cheeses; walnuts and pecans, although a wine at this level, it's really best to sip and contemplate it on its own.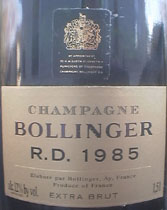 Champagne Bollinger RD 1985 Extra Brut, disgorged April 27, 1998 ($124.95)
It's hard to imagine a bubbly of this quality seeming like an anticlimax, although after the Niepoort, terms like "gilding the lily" came to mind. Still, it was our designated pre-Millennium wine, and it seemed like a shame not to pop a Champagne cork at midnight.
Clear pale gold, it poured up with a frothy snow-white mousse and almost microscopic bubbles; if tiny bubble size is really a factor in Champagne quality, and I believe it is, then these were just about the smallest I've ever seen. Fresh apples and lemons appeared at first on the nose, and the wine's initial flavor impression is one of extreme dryness, crisp and so tart that it almost seemed sour. It became much more accessible with just a little warming in the glass, however, opening up to great complexity - light toast and biscuits, honeyed candy apples and milk chocolate, with the rich, creamy mouthfeel that I love in Bollinger's RD. An interesting dilemma here: As with all great white wines, excessive chilling masks their flavors; but I hate to open a Champagne this good at warmer temperatures for fear of losing a drop of the precious fluid. Best to open it cold, I think, but then give it time to show its stuff. U.S. importer: Dreyfus, Ashby & Co., NYC. (Jan. 1, 2000)
FOOD MATCH: New Year's toasting.

Have you tasted these wines?
E-mail me your tasting notes,
and I'll consider adding them to this page.
All my wine-tasting reports are consumer-oriented. In order to maintain objectivity and avoid conflicts of interest, I purchase all the wines I rate at my own expense in retail stores.
Back to Current Tasting Notes Index