<!TODAY'S TEXT STARTS HERE!>

Wines for New Year's Eve

We made an early start on the holiday in order to offer these two recommendations in time for last-minute buying. The Champagne may not be quite up to the big, "biscuity" quality that I love in Pol Roger, but it stands well above much of the competition in the $25 range for this pricey celebratory treat. As to the Madeira, this Bual offers an interesting contrast to the same firm's Malmsey tasted just before Christmas. Both wines make fine winter warmers, but the Bual's balance and relative complexity make it the winner on style points.

Happy New Year!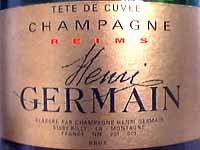 Champagne Henri Germain non-vintage Tete de Cuvee ($24.99)
Clear, pale straw color, with a lasting fountain of tiny bubbles. Delicious earthy scent, bread dough and cooking apples. Crisp and creamy texture, flavors follow the nose; full-bodied and fruity, with lemon-squirt acidity and a hint of odd but not unpleasant floral perfume. U.S. importer: Appellation Imports, Annapolis Junction, Md. (Dec. 30, 1998)
FOOD MATCH: A treat with anchovy pizza. I am not kidding about this.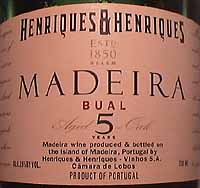 Henriques & Henriques non-vintage Bual 5 Years Madeira ($17.99)
Clear amber-plum color with an orange hue. Walnuts and orange peel in an absolutely delicious aroma with nuances of brown sugar and spice. Full, warm and sweet, with a tart citric "grip" that stops the sugar well short of "stickiness." A delicious, refined wine, dry and complex. U.S. importer: Europvin USA, Emeryville, Calif. (Dec. 30, 1998)

FOOD MATCH: Sipped after dinner, it went nicely with a bit of buttery shortbread.


Have you tasted these wines?
E-mail me your tasting notes,
and I'll consider adding them to this page.

All my wine-tasting reports are consumer-oriented. In order to maintain objectivity and avoid conflicts of interest, I purchase all the wines I rate at my own expense in retail stores.