GETTING STARTED | WINE NOTES | SEARCH SITE | DISCUSSION FORUMS | 30 SECOND WINE ADVISOR | CONTACT US
<!TODAY'S TEXT STARTS HERE!>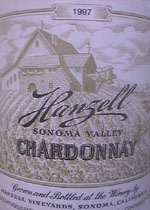 Hanzell 1997 Sonoma Valley Chardonnay ($39.99)
Over many years, Hanzell has been my one "must-buy" among California Chardonnays, a genre that I don't generally much admire. I've loved this wine for its big but elegant balance and its restraint in avoiding obvious sweet oak and butter, a happy policy that has made it one of the few West Coast Chardonnays that can justifiably be called "Burgundian." To my great disappointment, however, the 1997 has taken an upward jump in price (it's up $8 from my last Hanzell reported, the 1995), and it seems much more oaky and fat than previous vintages, a truly regrettable development. I'm afraid I won't be so quick to buy it at this price again. Clear pale gold in color, its aroma is focused on oaky vanillins with a hint of spearmint. Big (14.7% alcohol!), fat and full of tropical fruit flavors, it's much more oaky and, frankly, awkward, than I expect from Hanzell. Blame the market or blame peer pressure, this one may please fans of the modern California style, but it sure disappoints me. (Dec. 29, 1999)
FOOD MATCH: Served with a light dinner of broccoli and ham with orzo, it's almost too bulky to be a good dinner wine.

Have you tasted this wine?
E-mail me your tasting notes,
and I'll consider adding them to this page.
All my wine-tasting reports are consumer-oriented. In order to maintain objectivity and avoid conflicts of interest, I purchase all the wines I rate at my own expense in retail stores.
Back to Current Tasting Notes Index