GETTING STARTED | WINE NOTES | SEARCH SITE | DISCUSSION FORUMS | 30 SECOND WINE ADVISOR | CONTACT US
<!TODAY'S TEXT STARTS HERE!>
Three mid-range Burgundies
Cote de Beaune map by Robert Plissonneau.

I find it difficult to get to know Burgundies simply because the prices of the better bottlings are so elevated that most of us can't afford the tuition costs involved with getting an education. The cognoscenti seem to look down in general on the simpler "villages" wines and generic bottlings labeled by grape variety, Pinot Noir or Chardonnay, but it's a rare thing to find a well-pedigreed red Burgundy from a "respectable" vineyard for much under $30.

So, using the season as an excuse, I studied a local shop's Burgundy section with considerable care before picking up a trio of red Burgundies from the Cote de Beaune (map at right) to enjoy with dinner for three successive nights over Christmas weekend. All were young, from the well-regarded 1996 and 1997 vintages, and each cost a little under $30.

I found the results of this pleasurable "research" inconclusive. All these wines were pleasurable and showed at least a whiff of Burgundy character, but they certainly fell far short of the wonders we found in fine older Burgundies at the Washington Tasting organized by our friend Maureen Nelson back in October. But I can't say that any of these wines justified a $25-$30 price tag in competition with wines of other regions that we enjoy for half the price. Is cellaring an issue? In at some of these wines, particularly the Clos des Guettes, complexity and harmony seemed to lurk behind a curtain of tannins and hinted at future glory. But the Volnay in particular didn't seem to show much beyond what was on the surface.

Following are my tasting notes. I'd welcome thoughts and suggestions from the Burgundy lovers among us, particularly if you've solved the budget issue.
Louis Jadot 1997 Savigny-lès-Beaune Clos des Guettes ($28.99)
Dark ruby, defines the use of "burgundy" as a color term. Delicious red-fruit and spice aromas, oak seems a little more evident than I usually expect in a Burgundy. Tart acidity surrounds fresh if rather simple cherry fruit on the palate. Hints of a deep complexity lurk somewhere behind firm, fuzzy tannins, but they're hard to tweak out, even with extended time in the glass. U.S. importer: Kobrand Corp., NYC. (Dec. 27, 1999)
FOOD MATCH: A deliciously earthy bean soup made with leftover duck makes an inspired match and seems to tame the tannins.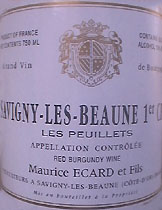 Maurice Ecard et Fils 1996 Savigny-les-Beaune 1er Cru Les Peuillets ($27.99)
Dark ruby, with good, seemingly characteristic Burgundy aromas focused on the fruity and floral-herbaceous: Black fruit, rose petals, tomato-skin and distant, pleasant "barnyardy" notes. Fresh and full, ripe fruit flavors are consistent with the nose, framed by a tangy acidity that makes it a very good match with food. U.S. importer: Kysela Pere et Fils Ltd., Winchester, Va. (Dec. 26, 1999)
FOOD MATCH: Fine with a risotto-like dish of rice cooked with fennel-laced Italian sausage.

Vincent Girardin 1996 Volnay Premier Cru "Les Champans" ($29.99)
Dark ruby, with good black-cherry and herbal aromas. Bright but simple tart-cherry flavors are clean and crisp, mouth-filling and firmly acidic. It's a drinkable wine, reasonably well balanced, but doesn't deliver $30 worth of punch for me. U.S. importer: Vineyard Brands Inc., Birmingham, Ala.; Robert Haas Selections. (Dec. 25, 1999)
FOOD MATCH: Works very well indeed with roast duck.

Have you tasted these wines?
E-mail me your tasting notes,
and I'll consider adding them to this page.
All my wine-tasting reports are consumer-oriented. In order to maintain objectivity and avoid conflicts of interest, I purchase all the wines I rate at my own expense in retail stores.
Back to Current Tasting Notes Index