<!TODAY'S TEXT STARTS HERE!>

Post-Christmas wine dinner in Indianapolis
Host Eric Stauffer pulls dinner wines out of his hand-built wine cellar.

The group wasn't over-large, but the fellowship, food and wine were hard to beat as three wine-loving couples gathered in Indianapolis yesterday for an offline gathering to wrap up the long holiday weekend. Host (and chef) Eric and Ginny Stauffer greeted Jeff Cuppett and his wife, Mary Lynn, who were in from the West Coast visiting relatives, and my wife Mary Johnson and me, up from Louisville for the occasion.


Between the wines we brought along and those Eric contributed from his cellar, the six of us made short work of almost a dozen fine bottles, with a dazzling array of buffet entrees chosen for their wine-friendliness.

Here's a look at the wines, with brief comments on the food matches:

Aperitif

Laurel Ridge 1989 Brut Blanc de Noir Oregon Sparkling Wine - Pale straw color, with tiny bubbles that dissipate rather quickly. Light, pleasant apple scent, and a crisp and fresh but rather light and sweet flavor.

FOOD MATCH: A luxurious side of Pilgrim's Kitchen Scottish smoked salmon marinated in The Macallan whiskey was so flavorful and delicate that it actually seemed to improve the wine.

Four Chardonnays
Babcock 1996 Santa Ynez Valley Mount Carmel Vineyard Chardonnay ($24.99) - Clear, pale straw color. Explosive aroma, figs and dates, knocks your head back as it blasts from the glass. Huge fruit, apples and spice, "outrageous." Seems like the pick of the flight until the T-Vine (below) comes along, after which the oak in this one seems much more evident.

Dehlinger 1996 Russian River Valley Chardonnay - Clear straw color. Pleasant, somewhat faint apple and chestnut aromas. Clean, fresh and bright, good fruit, butterscotch and lots of oak. Relatively good balance for a CalChard, not overly sweet or buttery, but the wood does dominate.
Domaine S. Mornand 1994 Pouilly-Fuissé - Bright gold. Very faint aroma, a distant whiff of cooking apples. Crisp, good "mineral" quality and apple fruit on the palate, tastes more forward than it smells. Elegant, dry and tart, a vast stylistic difference from the California whites in this flight. U.S. importer: Wine Services International Ltd., San Francisco.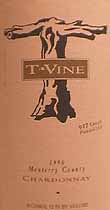 T-Vine 1996 Monterey County Chardonnay - Clear straw color, with an amazing aroma of ripe, juicy apples. Lovely flavor, totally fruit-driven, blending juicy tastes of apples, peaches and apricots. Amazing! It lives up to its humorously poetic back label written by wine maker Greg Brown, which reads, "To fully relish the experience of wine you must wallow in it like a child in the mud. No pretensions, simply a joy ride of the senses. Wallow away." Only 977 cases made. I wish I had one of them.
FOOD MATCH: An international tray of cheeses went very well with all four, taming the more oaky wines and standing up to the full fruit of the rest; the T-Vine made an especially delicious match with Parmigiano Reggiano.

Two Pinot Noirs
Dehlinger 1994 Goldridge Vineyard Russian River Valley Pinot Noir - Dark-ruby in color, it breathes ripe and forward fruit aromas reminiscent of (but more appetizing than) wild-cherry Life Savers. Big, juicy and tart, a boatload of fruit flavor is consistent with the nose.
Page Mill Winery 1996 Bien Nacido Vineyard Santa Maria Valley Pinot Noir - Clear cherry-red, with dark tart-cherry fruit and brown sugar aromas; fresh, clean and lasting fruit lingers in a rich, mouth-filling flavor.
FOOD MATCH: The earthy and rich flavors of a wild-mushroom penne pasta make a perfect match with these big and flavorful New World Pinots.
Two top reds
Ridge 1985 Monte Bello California Cabernet Sauvignon - Inky dark garnet in color. Lovely blueberry scent with minty overtones; big black-fruit flavor with mint and black-pepper nuances that follow the nose. Still very youthful in appearance, aroma and taste; years to go.
Domaine du Pegau 1995 Chateauneuf du Pape ($25.99) - Hazy dark-ruby color, deep and brooding, with jammy fruit and fragrant black pepper on the nose and palate. Seems a little closed, although it opens up and goes very well with the roast beef tenderloin, and lacks any hint of the earthy, "organic" elements that I had noted in some previous tastings. U.S. importer: J et R Selections, Mount Pleasant, Mich.
FOOD MATCH: As noted, both make a classic and traditional match with Eric's trademark roast tenderloin with a black-pepper and rosemary rub.

A pair of dessert wines
Chateau la Tour Blanche 1983 1er Cru Classe Sauternes - Clear dark gold. Fresh apricot and honey aromas, classic Sauternes; flavors follow the nose, clean and bright, still seems very youthful. U.S. importer: Ginday Imports Ltd., Washington, D.C.
Royal Tokay 1993 Tokaji Aszú 5 Puttonyos ($25.99/375 ml) - Clear dark gold. Delicious, heady scent of golden raisins lead into a ripe, fresh fruit flavor, juicy and tart, with luscious sweetness well balanced by fresh-fruit acidity. Delightful dessert wine! U.S. importer: Wilson Daniels, St. Helena, Calif.
FOOD MATCH: In my opinion, these wines should be dessert rather than served with dessert. But I can't close without mentioning Eric's remarkable flourless chocolate cake, a calorific concoction made with dangerous quantities of dark chocolate, butter and eggs.
Have you tasted these wines?
E-mail me your tasting notes,
and I'll consider adding them to this page.
All my wine-tasting reports are consumer-oriented. In order to maintain objectivity and avoid conflicts of interest, I purchase all the wines I rate at my own expense in retail stores.