<!TODAY'S TEXT STARTS HERE!>

Christmas Eve dinner wines

Amid the joyous nature and warm family spirit of the holidays, the Christmas season offers a happy excuse for wine lovers to ignore the budget for a while, and pull the cork on something a little special to celebrate the occasion. We marked our holiday-eve dinner with a decent if unassuming Bordeaux, with a young Port for sipping afterward.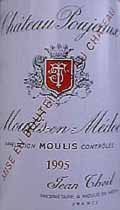 Chateau Poujeaux 1995 Moulis-en-Medoc ($24.99)
Very dark garnet. Cedary and leathery aromas over classic Bordeaux cassis (blackcurrant). Good fruit flavor and tart acidity appears first, with a wave of tannins chasing after it like a Roadrunner cartoon. The fruit wins, but it's a close race. Meep meep! Time is on this one's side. U.S. importer: The Stacole Co. Inc., Boca Raton, Fla. (Dec. 24, 1998)
FOOD MATCH: Standing-rib roast with Yorkshire pudding and Brussels sprouts tossed with pecans and brown butter.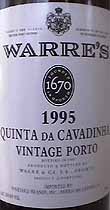 Warre's 1995 Quinta da Cavadinha Vintage Porto ($33.99)
Inky dark ruby, almost black. Deep, brooding black-fruit aromas with licorice and menthol notes. Delicious bitter-chocolate and mint on the palate, big fruit and a tart acidic "grip." Tannins are present but surprisingly subdued for a young Port, or else they're just subsumed by all the fruit and the penetrating menthol scent and flavor that forms a persistent ground bass. U.S. importer: Vineyard Brands Inc., American Canyon, Calif. (Dec. 24, 1998)

FOOD MATCH: After-dinner wine.


Have you tasted these wines?
E-mail me your tasting notes,
and I'll consider adding them to this page.

All my wine-tasting reports are consumer-oriented. In order to maintain objectivity and avoid conflicts of interest, I purchase all the wines I rate at my own expense in retail stores.