GETTING STARTED | WINE NOTES | SEARCH SITE | DISCUSSION FORUMS | 30 SECOND WINE ADVISOR | CONTACT US
<!TODAY'S TEXT STARTS HERE!>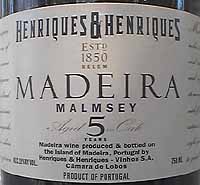 Henriques & Henriques non-vintage Malmsey 5 Years Madeira ($17.99)
Perhaps it's only a coincidence that it has been one year to the day since my last tasting of this lovely after-dinner wine, but the instinct was more than coincidental: The opening of the holiday season makes an appropriate occasion for just such a warming winter treat. Dark in color, almost mahogany, its characteristic aromas center on stone fruit, walnuts and pecans. Sweet and full-bodied, there's a hint of light molasses in the flavor, structured by tart, lemony acidity to give it "grip." U.S. importer: Europvin USA, Emeryville, Calif. (Dec. 23, 1999)
FOOD MATCH: Served alone for after-dinner sipping, it went nicely with cracked walnuts and pecans and a bite of mild Italian ricotta salata cheese.

Have you tasted this wine?
E-mail me your tasting notes,
and I'll consider adding them to this page.
All my wine-tasting reports are consumer-oriented. In order to maintain objectivity and avoid conflicts of interest, I purchase all the wines I rate at my own expense in retail stores.
Back to Current Tasting Notes Index