<!TODAY'S TEXT STARTS HERE!>

Madeira: A taste of American history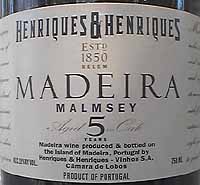 The island of Madeira lies 400 miles off Morocco in the Atlantic and is governed by Portugal; but the historic fortified wines made here are very much a part of American history. Because of trade routes and politics during our Revolutionary War and the War of 1812, Madeira was available -- and popular -- in the infant U.S. at a time when the clarets, Burgundies and Hocks favored by the British (and typically shipped through British ports) weren't so politically correct.

According to Frank Schoonmaker's Encyclopedia of Wine, colonists rioted on the docks of Boston in 1768 -- five years before the Boston Tea Party -- when British customs officials sought to place a duty on a shipment of Madeira. "Madeira was used to toast the signing of the Declaration of Independence," Schoonmaker reports, "and, in 1789, the inauguration of George Washington." Not unlike Sherry in general style, Madeira gains its unique character by being stored for years in hot rooms called estufas, a rough emulation of the treatment it used to receive on the decks of sailing ships crossing the broad Atlantic.

With a salute to our great history (and today's friendly relations with our European cousins), we started the holiday season the night before Christmas Eve with a warming glass of Malmsey, the sweetest of the Madeiras.

Henriques & Henriques non-vintage Malmsey 5 Years Madeira ($17.99)
Clear, dark amber. Burnt-sugar, walnut and stone-fruit scents blend with nuances of earth and forest floor to create a surprisingly complex and subtle aroma. Fresh, full-bodied, sweet and very long, almost a taste of maple-nut, well structured with the tart lemon-squirt acidity that's typical of Madeira. A lovely, warming wine for a winter night. U.S. importer: Europvin USA, Emeryville, Calif. (Dec. 23, 1998)

FOOD MATCH: Served alone for after-dinner sipping, but might go nicely with nuts, dried fruit and cheese.


Have you tasted this wine?
E-mail me your tasting notes,
and I'll consider adding them to this page.

All my wine-tasting reports are consumer-oriented. In order to maintain objectivity and avoid conflicts of interest, I purchase all the wines I rate at my own expense in retail stores.