GETTING STARTED | WINE NOTES | SEARCH SITE | DISCUSSION FORUMS | 30 SECOND WINE ADVISOR | CONTACT US



Maculan 1999 Pino & Toi ($9.99)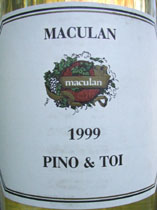 It's a rare thing to find an Italian white of much interst for less than $10, but this oddly named item from the Veneto stands out against the competition. A pale-gold blend of 60% Tocai, 25% Pinot Bianco and 15% Pinot Grigio, it's herbal and intensely aromatic, showing intriguing scents of apricots and green peas and a distant earthy whiff of wool. Pleasantly tart and bone-dry, its flavors focus on delicate white tropical fruits, starfruit and kiwis, bright and crisp in a long, clean finish. U.S. importer: Vin DiVino, Chicago; Leonardo Loscascio Selections. (Dec. 23, 2000)

FOOD MATCH: Perfect with a Continental variation on a down-home favorite: Alder-smoked salmon and peas in a light bechamel sauce over pasta.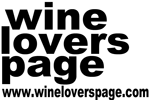 Wine notes in 'shelf-hanger' format:


We publish Wine Lovers' Page tasting reports in the familiar "shelf-hanger" size and format, to make it easy for wine merchants or collectors to print them out, clip and post them where this wine is displayed. We do ask, however, that the Wine Lovers' Page name and URL be left intact, and that these reports be used with the specific wines rated, not different bottlings or vintages.


All my wine-tasting reports are consumer-oriented. In order to maintain objectivity and avoid conflicts of interest, I accept no free samples from wineries or distributors, purchasing all the wines I rate at my own expense in retail stores.

Have you tasted this wine?
E-mail me your tasting notes, and I'll consider adding them to this page.
<!TODAY'S TEXT ENDS HERE!>
Previous day's wine note
Back to Current Tasting Notes Index