GETTING STARTED | WINE NOTES | SEARCH SITE | DISCUSSION FORUMS | 30 SECOND WINE ADVISOR | CONTACT US

<!TODAY'S TEXT STARTS HERE!>

Sangiovese Battle

The conventional wisdom, or mine, anyway, holds that the new wave of California Italian-style wines made from Sangiovese and other old-world varieties rarely matches the original Italian wines for quality or value. So a chance lineup of wines awaiting tasting the other night prompted me to put the theory to the test with a "blind" matchup, pitting a decent if mass-market 1997 Chianti against a similarly priced 1995 Sangiovese from a respectable California producer.

The results were interesting, if inconclusive: The California Tuscan clone was dominated by oak, as I frankly expected, but once past the wood, it was a reasonably enjoyable wine. The Chianti, somewhat to my surprise, proved bland and boring, one of the rare disappointments I've found in the generally outstanding 1997 vintage.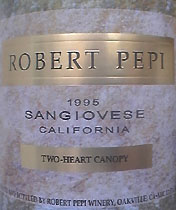 Robert Pepi 1995 California Sangiovese "Two Heart Canopy" ($16.49)
Clear, dark ruby, with a ripe red-fruit aroma dominated by the strong vanilla scent of new oak. Sweet oak takes the lead on the palate, too, surrounding good, fresh black-cherry fruit. The oak flavors aren't unpleasant, but don't diminish over time, leaving the final score at oak 1, fruit 0. (Dec. 22, 1999)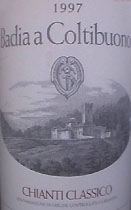 Badia a Coltibuono 1997 Chianti Classico ($15.99)
Clear ruby color, with a light, perfumed black-cherry scent. Soft and simple on the palate, surprisingly one-dimensional by the standards of '97 Chiantis, particularly at this price level. The overture plays, the curtain opens ... and no one is standing on the stage. Odd, and quite disappointing. U.S. importer: Winebow Inc., NYC. (Dec. 22, 1999)
FOOD MATCH: Both wines serve well enough with a gentrified macaroni and cheese (a creamy recipe featuring a dash of blue cheese along with Cheddar and Swiss), but each wine's flaws diminish its appeal, with food or without.

Have you tasted these wines?
E-mail me your tasting notes,
and I'll consider adding them to this page.
All my wine-tasting reports are consumer-oriented. In order to maintain objectivity and avoid conflicts of interest, I purchase all the wines I rate at my own expense in retail stores.
Back to Current Tasting Notes Index