GETTING STARTED | WINE NOTES | SEARCH SITE | DISCUSSION FORUMS | 30 SECOND WINE ADVISOR | CONTACT US

<!TODAY'S TEXT STARTS HERE!>

Disappointing '98s from Alba

Because I love the robust and rustic reds of Alba in Piemonte, Northwestern Italy, I was delighted to spot both a Dolcetto and a Barbera from the 1998 vintage - first I had seen from that year - in a local retailer the other day. Sadly, neither really rang the bell, and the Dolcetto was downright ornery. I haven't heard much about this vintage, but I sure hope these two aren't typical. (I'm not ruling out travel shock from recent arrival, and I wouldn't rule out the vintage based on a sample of two. But these early results are disappointing at best.)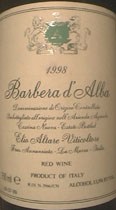 Elio Altare 1998 Barbera d'Alba ($13.99)
Very dark garnet, with earthy black-fruit and fennel aromas. More open on the palate than the nose, with tart fruit and fuzzy tannins. A bit rustic but pleasant; time should knock off its rough edges. U.S. importer: Vintner Select, Cincinnaty; a Marc de Grazia Selection. (Dec. 20, 1999)
FOOD MATCH: Spectacular with pesto rosso, a blend of sun-dried tomatoes and black olives as featured in Craig Schweickert's recipe on the Food Lovers' Discussion Group.

Falletto di Bruno Giacosa 1998 Dolcetto d'Alba ($13.99)
Dark ruby, with a distinct burnt-match aroma that suggests substantial sulfiting; it blows off after a few moments to reveal light berry fruit and a rather thin and tart flavor that does not improve with time in the glass. Disappointing. U.S. importer: Winebow Inc., NYC. (Dec. 19, 1999)
FOOD MATCH: Serves to wash down a rich macaroni-and-cheese dish featuring Cheddar, Swiss and Stilton.

Have you tasted these wines?
E-mail me your tasting notes,
and I'll consider adding them to this page.
All my wine-tasting reports are consumer-oriented. In order to maintain objectivity and avoid conflicts of interest, I purchase all the wines I rate at my own expense in retail stores.
Back to Current Tasting Notes Index