<!TODAY'S TEXT STARTS HERE!>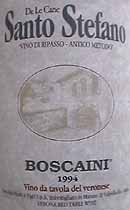 Boscaini 1994 "Santo Stefano de la Cane" Vino di Ripasso Vino da Tavola del Veronese ($14.99)
Ripasso, an unusual Veronese wine-making process, involves putting young Valpolicella wine into the barrels and onto the skins used to ferment the previous autumn's Amarone, triggering a secondary fermentation and an explosion of flavors. The process certainly worked for this lusty wine. It's dark ruby in color with an orange glint. Amazing aromas -- orange peel, cinnamon and cloves and very ripe black fruit, plums and prunes. Full and ripe fruit flavors follow the nose, big and rich, dry and acidic. Wonderful warming winter wine ... I've had mass-market Amarones with less power and elegance than this. U.S. importer: Dreyfus, Ashby & Co., NYC. (Dec. 19, 1998)

FOOD MATCH: Good with lamb chops, better still for sipping after dinner.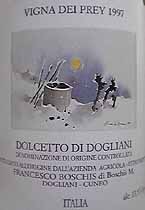 Vigna dei Prey 1997 Dolcetto di Dogliani ($13.99)
A neighbor of the more familiar Dolcetto d'Alba from the Piemontese village of Dogliani, this wine is a surprisingly inky dark blackish-purple, opaque as a Port. Brooding black-fruit and spice aromas, "leathery" and deep. Intense, juicy and tart, big fruit and big tannins. A hulking wine, big and delicious, not at all what I'd expect of a Dolcetto but fine all the same. U.S. importer: Vin Divino Ltd., Chicago; A Marc de Grazia Selection. (Dec. 18, 1998)
FOOD MATCH: A little over the top for a white ossobuco (braised veal shank) that would have been about right with a more typical Dolcetto.

Have you tasted this wine?
E-mail me your tasting notes,
and I'll consider adding them to this page.
All my wine-tasting reports are consumer-oriented. In order to maintain objectivity and avoid conflicts of interest, I purchase all the wines I rate at my own expense in retail stores.