<!TODAY'S TEXT STARTS HERE!>

Three New Zealand Sauvignon Blancs

For the U.S., at least, the craze for Sauvignon Blanc from New Zealand started with Cloudy Bay, a full-bodied and flavorful white with that characteristic Kiwi aroma that some liken to a tomcat's "spray" while others use less evocative botanical terms like "gooseberry" or "boxwood." I typically perceive the controversial scent as something more akin to green chile peppers, specifically jalapeñoes (without the heat), and I love it.

To their credit, all three of these makers present the characteristic flavor unmuted. I'd hate to see New Zealand turn to oak and cold fermentation and canopy management and do the other tricks that many California's wine makers have learned to diminish the classic flavor into something more like a lightweight Chardonnay. Keep up the good work!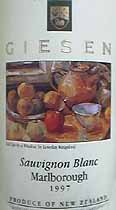 Giesen 1997 Marlborough Sauvignon Blanc ($13.99)
Pale straw color. Pronounced but delicate jalapeño aromas lead to good, crisp green-chile and grapefruit on the palate, bold and lasting. Very good expression of the New Zealand style. U.S. importer: USA Wine Imports, NYC. (Dec. 17, 1998)
FOOD MATCH: Perfect with delicate sauteed haddock fillets.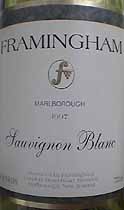 Framingham 1997 Marlborough Sauvignon Blanc ($10.99)
Clear, pale brass color, with green-chile and grapefruit aromas in an appetizing blend. Full and very intense flavor, fresh and crisp. If you like the Cloudy Bay style, you'll like this one, too. U.S. importer: Preiss Imports, Whittier, Calif. (Dec. 15, 1998)
FOOD MATCH: Good match with a light chicken-and-spinach stir-fry.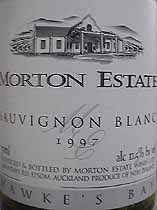 Morton Estate 1997 Hawke's Bay Sauvignon Blanc ($12.99)
Pale gold color. Green chile pepper and honey-apple aromas lead into a full, crisp flavor of citric fruit, grapefruit and lime. Pleasant and complex, perhaps not as "outrageously" herbaceous as the Cloudy Bay style, but well-balanced and clean. U.S. importer: Empson (USA) Inc., Alexandria, Va. (Dec. 7, 1998)
FOOD MATCH: Good match with ossobuco bianco, veal shanks braised in white wine.

Have you tasted this wine?
E-mail me your tasting notes,
and I'll consider adding them to this page.
All my wine-tasting reports are consumer-oriented. In order to maintain objectivity and avoid conflicts of interest, I purchase all the wines I rate at my own expense in retail stores.