<!TODAY'S TEXT STARTS HERE!>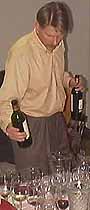 Mark Meyer (pictured at left), of Cutting Edge Selections of Cincinnati, regional representative for the Spanish wines imported by Jorge Ordoñez, brought along a substantial portfolio of his firm's wines for a delightful tasting sponsored by a Louisville-area wine group on Dec. 6.

Thanks to Evan Comer of Louisville's fine Liquor Outlet store for inviting me, and to Rich and Wendy Splan for hosting the tasting in their suburban home. It was a pleasure to meet them and members of the group, not to mention Mark! The wines are listed in the order tasted; prices shown are suggested retail in some cases, Liquor Outlet's shelf price in others.

Alvear's Montilla Andalusia Fino - Pale gold color. Pecans and a salty tang in the aroma; bone-dry and full flavors mirror the nose. Delicious!

Basa Rueda 1997 - Straw color. Pears and green-pea aromas; crisp and barely petillant, dry and tart. Refreshing.

Vega Sindoa 1997 Cuvee Allier Navarra Chardonnay ($9.99) - Bright straw color. Very toasty scent, lightly charred oak doinates fresh apple aromas. Full, rich and buttery, with a long and oaky finish.

Burgans 1997 Albariñno ($9.99) - Pale greenish-gold. Pears and cooking apple aromas lead into a juicy white-fruit flavor, tart and threshold sweet. Reminiscent of Viognier.

Marques de Velilla 1997 Ribera del Duero ($7.99) - Dark reddish-purple. Ripe strawberry scent, jammy and fresh; ripe and juicy fruit, quaffable and refreshing. Pleasant sipping wine, though atypical of Ribera del Duero; substantially different from my recent tasting of this same wine on Nov. 30, prompting the supposition that the wine tasted earlier may have been slightly and then-unrecognizably "corked."

Abadia Retuerta 1996 Rivola Sardon de Duero - Dark garnet. Black fruit aromas, herbaceous and "green." Soft, juicy fruit flavor, consistent with the nose. Clean and fresh, seems a little thin.

Onix 1997 Priorat ($8.49) - Day-glo reddish-purple. Intense raspberry and brown-sugar aromas; fruity, soft, a little less body than the nose might suggest. Notes very consistent with my last tasting on Nov. 13.

Mas Igneus 1997 Barranc dels Closos Priorat ($10.99) - Clear garnet. Mixed berry fruit aromas; lovely ripe fruit on the palate, jammy and tart, full-bodied and perfumed.

Muga 1994 Rioja Reserva ($13.99) - Dark garnet, with dominant "barnyard" qualities, black fruit and very earthy.

Abadia Retuerta 1996 Sardon de Duero ($24.99) - Inky dark garnet. Strongly herbal aromas, full and intense, lavender and fennel over ripe black fruit. Black fruit on the palate surrounded by herbal notes, long and consistent finish.

Teófilo Reyes 1996 Ribera del Duero ($27.99) - Inky reddish-purple, almost black. Ripe blackberry aroma nuanced with chocolate and cinnamon. Flavors consistent, full and ripe; lemon-squirt acidity gives big structure. A "fruit bomb," but a good one; attention-getting, a wine made for Parker points.

Bodegas Muga 1989 Prado Enea Rioja Gran Reserva ($31.99) - Very dark garnet. Lovely, delicate and "sweet" Rioja aromas, red fruit and roses. Ripe, mouth-filling fruit flavors follow the nose, delicious. (Going back to the Teófilo Reyes after this jewel, by the way, is a revelation: The Reyes, so seemingly fruity on its own, comes across as startlingly woody in a side-by-side comparison.)

Abadia Retuerta 1996 Cuvee Palomar Sardon de Duero ($43.99) - Very dark garnet. Tightly wound, floral aromas and black fruit in a rather shy aroma; it's intense in the flavor department, though, with full, perfumed and lasting black fruit.

Ramirez de Ganuza Cosecha 1994 Rioja ($52.99) - It was a joy to encounter this wine in Louisville after having the pleasure of meeting the proprietor of this exciting new winery in Rioja last spring; I frankly wasn't certain whether he would export it to the U.S., much less Louisville. Dark ruby in color, it shows delicate, complex red-fruit scents, apple-skin and perfumed floral notes. Amazing flavor, ripe, balanced and rich, sweet Rioja fruit and lemon-squirt acidity in balance. This one was my choice to hold for dinner after the tasting.

San Vicente 1995 Tempranillo Rioja ($26.95) - Inky dark reddish-purple, with black-fruit aromas and a whiff of coconut, the latter not nearly so evident as when this wine was younger. Full and bright flavors, delicious fruit and firm acidity.

Torre Muga 1994 Rioja ($41.99) - Very dark reddish-purple; tasty oak and coconut leap from the glass, with spicy black fruit not far behind. Big, full fruit flavors, consistent with the nose over a good acidic structure. In-your-face, a very approachable wine.

FOOD MATCH: Spanish cheeses! Our hosts and other participants fashioned excellent Spanish pork, chicken and monkfish entrees to serve after the tasting, but as excellent as they were, the real hit was a selection of rare and unusual Spanish cheeses (and real Serrano ham) provided by Liquor Outlet. Here's a detailed cheese list prepared by Liquor Outlet's Jon Stiles:

San Simon - A conical, pasteurized cow's milk cheese that is smoked to a rich, burnished brown. It has a flavor similar to a smoked Mozzarella, but with a more piercing, Provolone-like sharpness. It is native to the northern coast of Spain. Excellent with fruits and smoked meats and it is mild enough to warrant white wine.

Roncal - The Roncal valley is in the Navarre region of Spain. The valley has seven villages that produce the name controlled cheese, Roncal. In the 13th Century, all the residents of these Roncal villages became a formal society that worked as one to survive and prosper. They raised sheep for wool, milk and cheese and meat, lambs for meat, and horses. Roncal cheese became so famous that it was honored in 1981 with the first D.O.C. distinction given by Spain to one of its cheeses. To this day it is made in the fresh mountain air. It takes several months to ripen, gaining a delicious, moist, smooth, olive and nutty flavor. Excellent with wines from the region, it is good sliced, or grated. (roan-KAHL)

Garrotxa - Wow! This is spectacular cheese. From Catalonia, this goat's milk cheese has a rustic, grey, felt-like rind. The cheese is bone white and firm but moist. The rind is very thin. It has a mild satisfying flavor that is nutty and hints of thyme and rosemary and herbs. Stunning goat cheese and unlike any other goat cheese in the world. Go with strong red wines, a target for a Rioja. (gar-ROACH-uh)

Tronchon - Tronchon comes from a village with the same name in southern Aragon. This is a firm, mild, sheep's milk cheese. White or red, but the wines need to be fruity.(trone-CHONE)

Mahon - This cheese is from Minorca, the outer-most of the Balearic Islands. A cow's milk cheese that is rather plain in it's youth, but gains character as it ages from 6 months to 2 years. The flavor is buttery sharp, slightly salty, and lightly aromatic - sweet and nutty. Makes an excellent sandwich cheese, or eat it the traditional way; sliced, then sprinkled with olive oil and black pepper and tarragon. We've had trouble matching a wine to this cheese, most of the palates said beer when Springhurst did a tasting. (mah-HONE)

Torta del Casar - This resembles perfectly ripened Vacherin Mont d'Or from France or Switzerland, except that it is made from sheep's milk. The buttery, nutty flavored disk weight a couple of pounds. The bone white interior has a consistency of glistening pudding. Cut away the entire top of the cheese and scoop the cheese out with a spoon. (Tor-tah-dell-kah-SAR)

Serrano Ham - Has only been imported into the U.S.A. for about the last six months. Very similar to prosciutto in texture and approach, but I found the flavor to be different; a little more nut-like. Really special.

Have you tasted these wines?
E-mail me your tasting notes,
and I'll consider adding them to this page.

All my wine-tasting reports are consumer-oriented. In order to maintain objectivity and avoid conflicts of interest, I purchase all the wines I rate at my own expense in retail stores.