<!TODAY'S TEXT STARTS HERE!>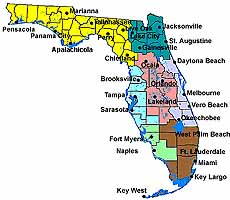 We've spent the past week on a pleasantly relaxing family visit and brief vacation in South Florida, and managed to stop in at a few decent, affordable restaurants that are just a little off the beaten path. Better still, we found thoroughly enjoyable wines of decent value -- at least by restaurant standards -- at each.

We began with Giuseppe's on North Lake Boulevard in North Palm Beach, a very friendly family Sicilian spot that has the advantage of being within walking distance of my Mom's condo, we filled up on grilled portabellos, fettuccine carbonara, fettuccine Bolognese, and a lobster tail in a lemon and white-wine sauce, and split a bottle of an exceptionally fruity young Dolcetto:

Villadoria 1997 Dolcetto d'Alba ($15/restaurant list) - Dark reddish purple in color, with pleasant aromas of red fruit and perfumed floral notes. Full and tart flavor, juicy fruit and tart acidity, fresh and long. U.S. importer: Opici Import Co., Glen Rock, N.J. (Dec. 10, 1998)

FOOD MATCH: Perfect with the portabellos and the Bolognese sauce; decent with the carbonara; doubtful with the lobster (but then, my Mom only wanted a little taste of wine anyway ... )

The following evening, Mary and I were in Key West and sneaked into one of our favorite restaurants here, Seven Fish, a startlingly good spot that remains "undiscovered" apparently by the wishes of the management. Located well off the Duval Street strip in a downscale residential neighborhood, it has no lighted sign and looks almost like a private residence from outside. It doesn't advertise and isn't listed in any of the tourist books, but there's always enough of a mostly local crowd to require either reservations or an early start. Every night's fish specials vary according to what's fresh. The food is delightful and the wine list short but serviceable.

King Estate 1996 Oregon Pinot Gris ($23/restaurant list) - Pale straw color, I think ... it's mighty dark in here. Citric lemon-lime aromas leap from the glass with discreet oak staying well in the background. Mouth-filling, crisp and tart, bone-dry, with a delicious citric snap staying fesh and clean in a very long finish. Perfect with fish, and interesting enough to make enjoyable sipping after the meal is done. (Dec. 11, 1998)

FOOD MATCH: The tangy citric acidity makes it a treat with just about any kind of seafood including a spicy smoked-scallop California roll appetizer and an entree portion of yellowtail in a zippy Thai-flavored cream sauce, and it also served well with a goat-cheese salad, thanks to the latter's mild vinaigrette and substantial portion of cheese.

Back up in the Palm Beach area on our way home, we stopped at another of our regular haunts: Capt. Charlie's Reef Grill in Juno Beach, a northern suburb of West Palm Beach, is a casual eatery that in my opinion is about as good as it gets for excellent quality fresh fish. The wine list isn't library-quality, but to its credit, it offers a decent range of wines with just about everything available by the glass. I sampled two:

Ferrari-Carano 1997 Sonoma County Fumé Blanc ($4.50/glass, $22.95/bottle restaurant price) - Very pale straw color. Light citric aroma; fresh and crisp flavor, juicy and tart as fresh grapefruit. Very pleasant, and its high acidity makes it a delight with fresh fish. (Dec. 13, 1998)

Wairau River 1996 New Zealand Sauvignon Blanc ($5.50/glass, $28.95 bottle restaurant price) - Clear straw color. Citrus and delicate green chile aromas' full and bright on the palate, flavors consistent with the nose. Not quite as "outrageous" as Cloudy Bay and its competitors, but a full, pleasant Sauvignon in the herbaceous style; and as with the wine above, lemon-squirt acidity makes it a natural with fish. (Dec. 13, 1998)

FOOD MATCH: As noted, both these wines provided excellent service with a variety of excellent fish: Grilled salmon, pan-sauteed Florida flounder and broiled yahoo.

Have you tasted these wines?
E-mail me your tasting notes,
and I'll consider adding them to this page.

All my wine-tasting reports are consumer-oriented. In order to maintain objectivity and avoid conflicts of interest, I purchase all the wines I rate at my own expense in retail stores.