GETTING STARTED | WINE NOTES | SEARCH SITE | DISCUSSION FORUMS | 30 SECOND WINE ADVISOR | CONTACT US
<!TODAY'S TEXT STARTS HERE!>
Two modest Greek reds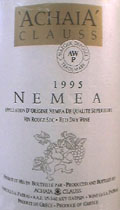 I learned to love the food and wine of Greece when we lived in a Greek-immigrant neighborhood in New York City a few years ago. At their best, Greek wines proudly display the ancient wine heritage of Greece, a history that goes all the way back to Bronze Age times and the poet Homer's "wine-dark sea."

Ever since we moved away from that part of the world, I've been vaguely frustrated by the limited quantity and quality of Greek wines available in most of the rest of the U.S. Every year or so, though, with never-flagging hope, I take another pass at the few such items I can find.

I had some reason to be hopeful about these two reds, which come from Nemea in the Peloponnese of Southern Greece and are made from the potentially excellent Agiorgitiko ("St. George") grape, pronounced "Ah-George-ee-TEE-ko." Analytical tasting, though, rates them as simple table wines at best, fruity but soft, certainly quaffable but lacking distinction; pretty much in the category of wines for spaghetti or pizza.

Achaia Clauss 1995 Nemea ($8.99)
Dark garnet in color, with fresh aromas of red fruit and mint. Soft, juicy fruit flavors, berries and plums; light but sufficient acidity and perfumed fruit in the finish. U.S. importer: David Sherman Corp., St. Louis. (Dec. 5, 1999)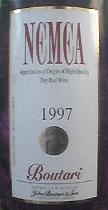 Boutari 1997 Nemea ($10.99)
Clear ruby, rather light. Fresh cherry aroma, rather shy. Bright and tart red-fruit flavors, easy quaffing if soft on the acid balance. Easy quaffing, with a pleasant lingering taste of apple-skin in the finish. U.S. importer: Paterno Imports, Lake Bluff, Ill. (Dec. 5, 1999)
FOOD MATCH: Both work quite well with a Vietnamese-influenced dish of minced pork, ginger and garlic rolled with rice and mint in cabbage leaves.

Have you tasted these wines?
E-mail me your tasting notes,
and I'll consider adding them to this page.
All my wine-tasting reports are consumer-oriented. In order to maintain objectivity and avoid conflicts of interest, I purchase all the wines I rate at my own expense in retail stores.
Back to Current Tasting Notes Index