<!TODAY'S TEXT STARTS HERE!>

Two Good Burgundies

To paraphrase the wisdom about old, bold fighter pilots, there are good Burgundies, and there are cheap Burgundies, but there aren't many good, cheap Burgundies. Actually, in these inflationary times, there aren't even many cheap Burgundies, good or otherwise.

By this standard, the $30-$40 range becomes almost low-end for Burgundy, but these two neighbors, holding up well, almost qualify as bargains by the standard of the genre.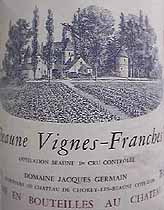 Domaine Jacques Germain 1990 Beaune Vignes-Franches ($31.99)
Very dark garnet color, with abundant fruit and distinctly earthy nuances evoking such less-than-pleasant associations as horse sweat and damp laundry ... but it's good horse sweat and damp laundry, and that's the mystery of Burgundy. All the funky aromas fade when you take a taste -- it blossoms on the palate with big red fruit, rich and almost sweet at first, gradually seguing to ripe, clean plums and crisp apples in a very long finish. U.S. importer: USA Wine Imports, NYC; Selection Becky Wasserman. (Dec. 4, 1998)
FOOD MATCH: Filet mignons pan-braised in red wine, Barolo-style.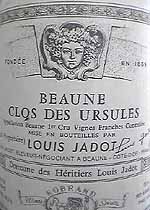 Louis Jadot 1991 Clos des Ursules Beaune 1er Cru Vignes Franches ($36.99)
Dark ruby. Black fruit and discreet "barnyard" aromas. Ripe and juicy fruit flavor, fresh and youthful, over lemon-squirt acidity and soft, barely perceptible tannins. Black fruit and pleasant earthy notes linger in a long finish. U.S. importer: Kobrand Co., NYC. (Nov. 29, 1998)

FOOD MATCH: Fine with a half-leg of lamb roasted boulangere style with potatoes and onions.


Have you tasted these wines?
E-mail me your tasting notes,
and I'll consider adding them to this page.

All my wine-tasting reports are consumer-oriented. In order to maintain objectivity and avoid conflicts of interest, I purchase all the wines I rate at my own expense in retail stores.