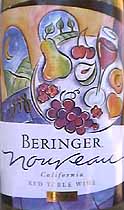 Beringer 1998 Nouveau California Red Table Wine ($6.99)
Clear ruby color. Jammy ripe black cherry and strawberry aromas, characteristic of the "nouveau" process. Soft, juicy fruit flavor, consistent with the nose, with sufficient acidity to hold it in balance. Better than this year's French offerings, for a change, but essentially a "soda-pop" wine not worth a lot of contemplation. A curious note: Although the back label refers consumers to Beringer's regular Gamay Beaujolais bottling, nowhere on the bottle is any variety claimed for the Nouveau. Is it Gamay? (Nov. 25, 1998)

FOOD MATCH: Each of the above works well enough, in different ways, with a traditional hearty beef stew, a simple dinner for Thanksgiving Eve.


Have you tasted these wines?
E-mail me your tasting notes,
and I'll consider adding them to this page.

All my wine-tasting reports are consumer-oriented. In order to maintain objectivity and avoid conflicts of interest, I purchase all the wines I rate at my own expense in retail stores.