GETTING STARTED | WINE NOTES | SEARCH SITE | DISCUSSION FORUMS | 30 SECOND WINE ADVISOR | CONTACT US
<!TODAY'S TEXT STARTS HERE!>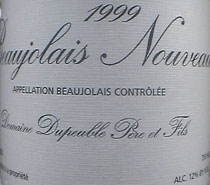 Dupeuble 1999 Beaujolais Nouveau ($9.50)
Clear garnet. Ripe strawberry aromas and a whiff of cotton candy. The "banana" character of Beaujolais yeast seems muted at first, or perhaps just cloaked by the remarkable ripe-strawberry scents, but banana oil becomes a little more apparent on the palate, along with ripe and juicy fruit. Better than many Nouveaus, but I still prefer mine without the bananas. U.S. importer: Kermit Lynch Wine Merchant, Berkeley, Calif. (Nov. 25, 1999)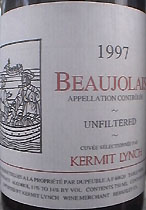 Dupeuble 1997 "Cuvée Kermit Lynch" Beaujolais ($9.49)
Dark garnet, with pleasant, delicate scents of berries and plums, and no banana at all. Ripe fruit and tart acidity in balance on the palate, with a hint of bitter almond in a long finish. Very good indeed. Good fruit, good balance, no signs of fading. U.S. importer: Kermit Lynch Wine Merchant, Berkeley, Calif. (Nov. 25, 1999)
FOOD MATCH: Both wines go well enough with turkey and the trimmings, but the '97 is especially well-matched, showing its popular appeal as the first bottle emptied while there's still plenty of Nouveau left without takers.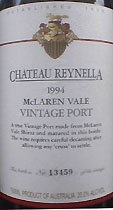 Chateau Reynella 1994 McLaren Vale Vintage Port ($17.09)
Inky dark reddish purple, with pleasant if rather shy aromas of raisins and prunes. Sweet and tart and slightly peppery flavors, ripe blackberry fruit structured with taut acidity. A pleasant Port-style wine, made from Shiraz. One of the few Australian "Ports" I've encountered in the ruby-red Vintage Port style rather than sugary tawnies. U.S. importer: International Cellars, Chantilly, Va. (Nov. 25, 1999)
FOOD MATCH: Pleasant for after-dinner sipping on its own, and a delight with a bit of Stilton cheese.

Have you tasted these wines?
E-mail me your tasting notes,
and I'll consider adding them to this page.
All my wine-tasting reports are consumer-oriented. In order to maintain objectivity and avoid conflicts of interest, I purchase all the wines I rate at my own expense in retail stores.
Back to Current Tasting Notes Index