<!TODAY'S TEXT STARTS HERE!>

Four for Turkey Day

As I report in our online article about food matching, The Happy Marriage of Food and Wine, it can be challenging to come up with the right wine match for the bird that's traditional for Thanksgiving dinner in the U.S.

Turkey has light and dark meat, and its meat has an oily quality that's not always friendly to dry wines. I call my solution "the cranberry sauce principle." Cranberry sauce goes well with turkey because it's both fruity and tart; so choose a wine with similar characteristics -- Beaujolais or Zinfandel if you want a red, or Riesling, Gewurztraminer or Chenin Blanc if you're inclined to a white.

Over the past few days, I've sampled several fruity-tart wines that I think would do well with turkey. Whether you're reading this in the U.S. or elsewhere around the world, may you have a happy Thanksgiving Day!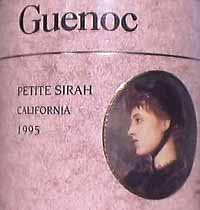 Guenoc 1995 California Petite Sirah ($14.99)
Those who know my wine preferences may be surprised to see me speak well of a Petite Sirah, a wine that I generally shun as a one-dimensional monolith of simple fruit and oak. But this one, while hardly a model of delicacy or subtlety, is just plain enjoyable. Inky dark reddish-purple in color, it breathes appetizing aromas of ripe black fruit, plums and prunes and apple-pie spice. Full, juicy fruit and sweet oak flavors are simple but appealing, cloaking firm but palatable tannins. A delightful example of this grape. (Nov. 23, 1998)
FOOD MATCH: Perfect with rare prime rib, but the ripe, juicy fruit would also make it a match as obvious as cranberry sauce with the holiday bird.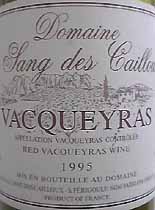 Domaine le Sang des Cailloux 1995 Vacqueyras ($11.99)
Dark garnet in color, with spicy black pepper and black-cherry fruit on the nose and palate. Full and fresh, good quaffing and good at the table, sort of a rookie-league version of Chateauneuf-du-Pape. U.S. importer: Kermit Lynch Wine Merchant, Berkeley, Calif. (Nov. 22, 1998)
FOOD MATCH: Served with pan-grilled strip steaks and braised onions; its fruity fullness would also make a nice match with turkey dark meat.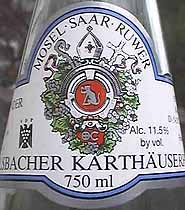 Eitelsbacher Karthäuserhofberg (Mosel-Saar-Ruwer) 1995er Weissburgunder Trocken ($14.99)
"Weissburgunder," or "White Burgundian," is simply the German name for Pinot Blanc, a grape that we don't often associate with the Mosel. This dry one's an interesting and worthwhile venture, though. I'd definitely buy it again. Pale gold; a scattering of tiny bubbles lines the glass. Musky, funky, earthy aromas, muskmelon and apples and hints of "damp laundry." Flavors follow the nose, earthy, crisp and complex; full-bodied and seems entirely dry. Very interesting wine, more akin to White Burgundy than New World Pinot Blanc or Chardonnay, but with an earthy character all its own. U.S. importer: Willett Distributing Inc., Alexandria, Ky. (Nov. 24, 1998)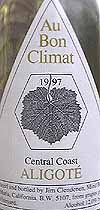 Au Bon Climat 1997 Central Coast (California) Aligoté ($12.99)
Aligoté, the "other white grape" of Burgundy, is generally considered a lesser sibling to Chardonnay, and quite frankly, this pleasant but ultimately forgettable white wine shows why. Clear straw color. Faint white-fruit aromas, slight and shy; lightly spicy oak aromas open up with time in the glass. Full, juicy fruit flavor, much more forward than the nose suggests; white grapes and perfumed pumpkin-pie spice, soft but appealing. (Nov. 24, 1998)
FOOD MATCH: Both white wines went very well indeed with a Northern Italian-style dish of boneless pork loin braised with onions; in the spirit of the season, I believe they'd also make a good match with roast turkey.

Have you tasted these wines?
E-mail me your tasting notes,
and I'll consider adding them to this page.
All my wine-tasting reports are consumer-oriented. In order to maintain objectivity and avoid conflicts of interest, I purchase all the wines I rate at my own expense in retail stores.