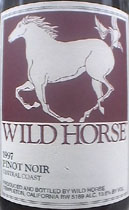 Wild Horse 197 Central Coast (California) Pinot Noir ($17.99)
Clear, dark ruby, with bright cherry-cola and tomato-skin aromas, characteristic of Central Coast Pinot. Ripe and fresh, tart-cherry fruit and lemony acidity in balance. Good Pinot in the California style, fine wine but well removed from Burgundy. (Nov. 20, 1999)

FOOD MATCH: Both wines pull off the "cranberry sauce trick" with light and dark turkey meat and a traditional dressing, although the aromatic vanillins in the Ridge are a little problematical.


Cockburn's 10 Years Matured in Wood Tawny Porto ($19.99)
Clear amber-orange, with walnuts and "stone-fruit" aromas, plums and prunes. Warm and strong, sweet stone-fruit flavors with tart acidity to hold the sweetness in balance. Alcoholic heat adds a slightly rough edge, but it's still a good, mellow Port for after-dinner sipping. U.S. importer: Allied Domecq Wines USA, Healdsburg, Calif. (Nov. 19, 1999)

FOOD MATCH: Cozy and warming for after-dinner sipping, on a holiday or any other day.


More wines for Turkey Day
The Tawny Port was featured in The 30 Second Wine Advisor, my free weekly E-mail bulletin of quick wine tips, advice and tasting notes. Click here to join the E-mail list!

Have you tasted these wines?
E-mail me your tasting notes,
and I'll consider adding them to this page.

All my wine-tasting reports are consumer-oriented. In order to maintain objectivity and avoid conflicts of interest, I purchase all the wines I rate at my own expense in retail stores.

Back to Current Tasting Notes Index