GETTING STARTED | WINE NOTES | SEARCH SITE | DISCUSSION FORUMS | 30 SECOND WINE ADVISOR | CONTACT US
<!TODAY'S TEXT STARTS HERE!>
Banana/Not-Banana:
A tale of two Nouveaus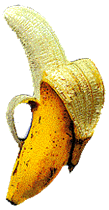 The Nouveau Beaujolais is here again, and thereby hangs a tale: Everyone knows that this first young wine of the new vintage is supposed to be ripe with fresh fruit. But nowhere is it written that it has to reek of bananas and sweet cotton candy, as so many Nouveaus nowadays do.

Contrary to some reports, this character is not a necessary result of the carbonic maceration process used to make nouveau-style wines. Nor is it a Beaujolais tradition of long standing. In fact, it's the hallmark of Georges Duboeuf, the so-called "King of Beaujolais," whose products dominate the Beaujolais market and whose "house brand" of wine yeast - a product called 71B that's closely related to a beer yeast used in some Belgian monastery ales - imparts a startling banana-oil flavor to the wines it makes.

Perhaps because of economics or maybe because of the success of Duboeuf's wines in the marketplace, quite a few other Beaujolais makers are using 71B these days, to the extent that many people regard the banana flavor as a trademark of Beaujolais.

But it needn't be so. To mark the arrival of this year's Nouveau (which is always released on the third Thursday of November), I passed on Duboeuf but tried two other Nouveaus, one quite clearly made with 71B and the other without. The side-by-side comparison reinforced my strong opinion: No bananas for me, please!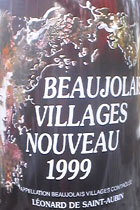 Léonard de Saint-Aubin 1999 Beaujolais-Villages Nouveau ($7.99)
Clear ruby in color, with light, pleasant red-fruit aromas flavors; fresh, tart and simple, very bright and fresh; and yes, we have no bananas today. This is Nouveau the way I remember it, and the way I like it. Thumbs up! U.S. importer: Parliament Import Co., Atlantic City, N.J. (Nov. 19, 1999)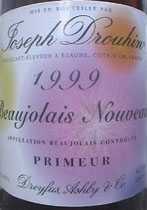 Joseph Drouhin 1999 Beaujolais Nouveau Primeur ($8.99)
Dark ruby color. Strong scent of bananas ... or, more specifically, banana oil and alcohol; my wife hits the descriptive target with "nail-polish remover." Bananas on the palate and, to be fair, a juicy ration of fresh strawberries. Juicy fruit flavor, tart and full; a bowl of fruit, as Beaujolais should be, but the impact of the 71B yeast is frankly intrusive. U.S. importer: Dreyfus, Ashby & Co., NYC. (Nov. 19, 1999)

FOOD MATCH: Both wines work well enough to wash down veal chops; the Saint-Aubin, in addition, makes a very nice match with a cauliflower-carrot puree laced with fresh ginger and garlic and Indian spice.


Have you tasted these wines?
E-mail me your tasting notes,
and I'll consider adding them to this page.

All my wine-tasting reports are consumer-oriented. In order to maintain objectivity and avoid conflicts of interest, I purchase all the wines I rate at my own expense in retail stores.

Back to Current Tasting Notes Index