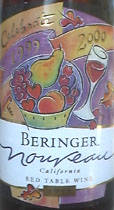 Beringer 1999 California "Nouveau" Red Table Wine ($7.59)
Clear reddish-purple, with forward aromas of candied strawberries and banana oil, leading into a very ripe berry and banana flavor, juicy and tart with a hint of sweetness. Bananas and a hint of bitter almond linger in the finish. Resembles the traditional Nouveau Beaujolais style of France, but more ripe, forward and grapey than most. (Nov. 14, 1999)

FOOD MATCH: The cranberry-sauce principle continues to hold; exuberant fruit and tart-sweet flavor improve our attitude toward leftover turkey, sliced and warmed in leftover gravy.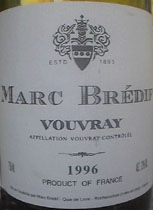 Marc Brédif 1996 Vouvray ($13.99)
Clear, pale straw color, with apple and pear aromas surrounded by earthy, musky Chenin Blanc fruit. Ripe and fresh, slightly sweet and very tart, evokes cooking apples with a slice of sharp Cheddar cheese. U.S. importer: Maisons, Marques et Domaines USA Inc., Oakland, Calif. (Nov. 12, 1999)
FOOD MATCH: The wine's piercing acidity makes it a good palate cleanser, but no particular flavor synergy occurs.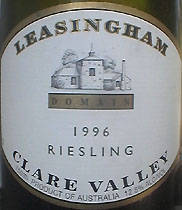 Leasingham 1996 Clare Valley (Australia) Riesling ($$7.59)
Clear, pale gold, with a markedly citric aroma, lime peel and apples and a whiff of the odd but pleasant "petrol" quality of older Riesling. Crisp fruit flavors mirror the aroma, fresh and clean; tart lemon-lime and muted "petrol" in a very long finish. Previously tasted a little over a year ago, it's showing interesting evolution and greater complexity. U.S. importer: International Cellars, Chantilly, Va. (Nov. 14, 1999)
FOOD MATCH: As with the Vouvray, it washes the palate clean and doesn't detract from the flavors, but for a match that sings, I'll stay with Beaujolais.

More wines for Turkey Day
These wines were featured in The 30 Second Wine Advisor, my free weekly E-mail bulletin of quick wine tips, advice and tasting notes. Click here to join the E-mail list!

Have you tasted these wines?
E-mail me your tasting notes,
and I'll consider adding them to this page.
All my wine-tasting reports are consumer-oriented. In order to maintain objectivity and avoid conflicts of interest, I purchase all the wines I rate at my own expense in retail stores.
Back to Current Tasting Notes Index