<!TODAY'S TEXT STARTS HERE!>

Is a wine cellar really necessary?

I'd certainly never discourage any serious wine lover who has the time and energy (or the ready cash) to build a proper wine "cellar" to store his ageworthy wines. There's no real question that a constant environment of 55 degrees F (about 13C) is ideal for storing the best wines for the longest time and enjoying them as they age gracefully.

But is it really necessary? I don't think so.

As a wine writer who tastes primarily newly released wines, storing and aging wine doesn't make economic sense for me, so I've never had occasion to set up a proper cellar. But like just about everyone who's seriously into wine, I can't help stashing away a few special bottles just to see what they'll do.

Over more than 20 years as a wine fancier, it's my firm impression that sturdy reds, in particular, can be kept safely and well at air-conditioned room temperature -- even when "room temperature" sometimes ranges into the 80s F as it does in the Southern U.S. -- for five years with ease and up to a decade with luck.

To test this theory, I recently pulled these three bottles off my dusty wine racks, and found all three in fine condition and showing no evidence of tiredness or precocious aging.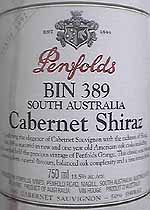 Penfolds 1992 Bin 389 South Australia Cabernet/50%-Shiraz/50% ($13.99 in 1995)
Inky dark garnet. Cassis, caramel and spicy oak aromas, fruity and full. Big, ripe and juicy fruit and sweet oak on the palate over a firm acidic structure and soft tannins. Comparing my notes for tastings in May 1997 and December 1995, it hardly seems to have evolved at all. It's delicious, drinkable, and best of all, still on the uphill slope. I have one left and won't open it for at least two years, even stored at "room temperature." U.S. importer: PWG Vintners, Monterey, Calif. (Oct. 12, 1998)
FOOD MATCH: Fine with a traditional pot roast of beef shoulder.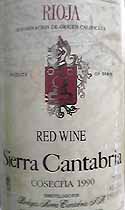 Sierra Cantabria Cosecha 1990 Rioja ($6.99 in 1994)
Dark garnet in color, with intriguing aromatics of black coffee and "tar" playing counterpoint to ripe and still youthful black fruit. Full and ripe flavor, with that delicious "sweet" quality that appears in older Riojas. Lots of fruit and snappy acidity, tannins not evident; clean and consistent in a medium finish. Tasted three times since purchase, adding some aromatics but still quite consistent with notes from December 1995 and May 1996(Oct. 14, 1998)
FOOD MATCH: Goes well with pan-grilled lamb chops, although in fairness, it lacks the synergy that inspired the match below.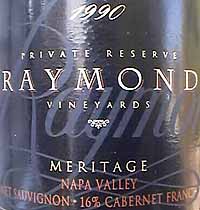 Raymond Vineyards 1990 Napa Valley "Private Reserve" Meritage ($?)
Inky dark-garnet, with good black-cherry aromas and hints of cedar and pine. Full tart-cherry fruit flavor and sweet oak, dark chocolate and vanilla. A burst of fruit at first, surprisingly youthful; lemony acidity follows, lingering in a fairly long finish. Excellent wine, showing no signs of age. I don't recall where this wine came from, although it's apparently been in my possession since 1994. The back label indicates that it was a winery sample, 1,000 cases made and a $40 (!) suggested retail price. As the "Meritage" label indicates, it's a Bordeaux-style blend of 73% Cabernet Sauvignon, 16% Cabernet Franc and 11% Merlot. (Nov. 14, 1998)
FOOD MATCH: Demonstrates why Bordeaux (and its flatterers by imitation) is the perfect match with lamb chops. It doesn't get much better than this.

Have you tasted these wines?
E-mail me your tasting notes,
and I'll consider adding them to this page.
All my wine-tasting reports are consumer-oriented. In order to maintain objectivity and avoid conflicts of interest, I purchase all the wines I rate at my own expense in retail stores.