GETTING STARTED | WINE NOTES | SEARCH SITE | DISCUSSION FORUMS | 30 SECOND WINE ADVISOR | CONTACT US

<!TODAY'S TEXT STARTS HERE!>

Good Pinot Noir for $10?

In a world where it's hard to find red Burgundies of real quality for less than $40 and up, and where even top New World Pinot Noirs command prices in the $20s and $30s, is it even worth the effort of pulling the cork from $10 California Pinots? I didn't come to this assignment with great optimism, but the Napa Ridge, at least, pleased me by scoring well above expectations.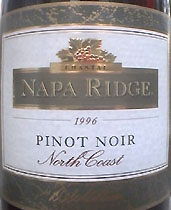 Napa Ridge 1996 North Coast (California) Pinot Noir ($10.99)
Clear garnet, with a ripe scent full of the characteristic cherry cola of California Pinot, with spicy oak playing a ground bass without dominating the tune. Sweet oak is a little more evident on the palate, but fresh if simple Pinot fruit carries the day. (Nov. 8, 1999)
LABEL NOTE: Watch for a new name for this brand in coming vintages; while there's no official word yet, regulatory agencies are starting to make noises about labels like "Napa Ridge" that carry a regional name without qualifying for that region's formal appellation.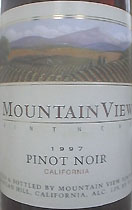 Mountain View Vintners 1997 California Pinot Noir ($7.59)
Clear ruby with a reddish glint, this item is one price step down from the Napa Ridge, and it shows. Closed, vinous, only a hint of Pinot in a faint "tomato-skin" scent; its tart-cherry flavor is thin and not particularly Pinot-like. Quaffable but far from memorable. (Nov. 8, 1999)
FOOD MATCH: A straightforward chicken Marengo, braised with herbs and lots of mushrooms, makes a fine Pinot match.

Have you tasted these wines?
E-mail me your tasting notes,
and I'll consider adding them to this page.
All my wine-tasting reports are consumer-oriented. In order to maintain objectivity and avoid conflicts of interest, I purchase all the wines I rate at my own expense in retail stores.
Back to Current Tasting Notes Index