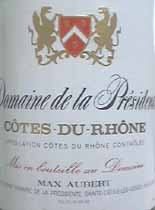 Max Aubert 1995 Domaine de la Prèsidente Cotes-du-Rhone ($5.99)
Clear garnet. Pleasant spicy black-fruit aroma. Juicy fruit flavor, blackberry jam and fragrant black pepper; a bit soft, but plenty of zippy acidity for structure. Good quaff and a very good value. U.S. importer: Appellation Imports, Annapolis Junction, Md. (Nov. 1, 1998)

FOOD MATCH: Fine for washing down chicken sausages with kale and potatoes.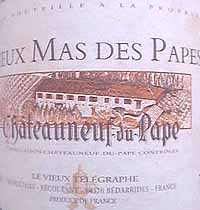 Vieux Mas des Papes 1996 Chateauneuf du Pape ($19.99)
Very dark ruby color, shows glints of orange when you hold it up to the light. Scents of intensely fragrant black pepper over plummy fruit; pepper and black fruit carry over to the palate, tart and full. Tannins become evident only in the finish. Good, "clean" expression of Chateauneuf. U.S. importer: Kermit Lynch Wine Merchant, Berkeley, Calif. (Nov. 3, 1998)
FOOD MATCH: Perfect with pan-grilled T-bone steak.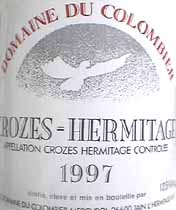 Domaine du Colombier 1997 Crozes-Hermitage ($12.99)
Clear pale straw color. Heady, perfumed floral aromas over fresh pears. Flavors follow the nose, dry and tart, sweet pears and citric acidity lingering in a long, consistent finish. My wife picks up a whiff of the controversial "cat-spray" or "boxwood" character and finds it offensive, but for me it's at the threshold of perception and not at all unpleasant. U.S. importer: Kysela Pere et Fils Ltd., Winchester, Va. (Nov. 5, 1998)
FOOD MATCH: Works fine with leftover pork and sauerkraut, a combination that calls for a full-bodied, aromatic white.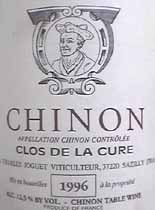 Charles Jouguet 1996 Clos de la Cure Chinon ($13.99)
Very dark garnet. Plummy fruit and "leafy," "green" herbaceous aromas of Cabernet Franc. Crisp and juicy fruit flavor, peppery and tart. Clean and tartly acidic, but with plenty of fruit to make the balance come out right. Chinon is an acquired taste for most wine lovers, but this one is a good starting point. U.S. importer: Kermit Lynch Wine Merchant, Berkeley, Calif. (Nov. 7, 1998)
FOOD MATCH: Roast chicken with garlic and rosemary; the aromatic herbs in particular make this a fine match.

Domaine la Ferme Blanche 1997 Cassis ($9.99)
Clear straw color. Citric and crisp aromas, lemons and limes and even a hint of tangerines. Full and bright flavor, a bit one-dimensional but very clean and refreshing; dry and tart and reasonably long. U.S. importer: Kysela Pere et Fils Ltd., Winchester, Va. (Nov. 8, 1998)
FOOD MATCH: Exceptional match with fish chowder; the wine's citric acidity complements the fish and counterpoints the creamy soup.

Have you tasted these wines?
E-mail me your tasting notes,
and I'll consider adding them to this page.
All my wine-tasting reports are consumer-oriented. In order to maintain objectivity and avoid conflicts of interest, I purchase all the wines I rate at my own expense in retail stores.