GETTING STARTED | WINE NOTES | SEARCH SITE | DISCUSSION FORUMS | 30 SECOND WINE ADVISOR | CONTACT US
<!TODAY'S TEXT STARTS HERE!>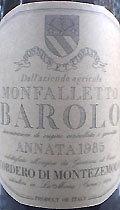 Cordero di Montezemolo 1985 Monfalletto Barolo ($12.99)
What's this!? A 1995 Barolo for $13? It doesn't seem logical but I grab it, take it home, and then take a closer look at the label: Nineteen-eighty-five! In that light, the fire-sale price still doesn't make a lot of sense, but it strongly suggests a retailer dumping old or damaged goods. Still, 1985 was a fine vintage in the Piemonte and Barolo is ageworthy and almost bulletproof, even from a maker like Cordero di Montezemolo, who declares that his Barolos are meant to be drunk relatively young. I pull the cork, and my optimism is rewarded. It's a dark-garnet wine, still clear at the edge, breathing smoke and grilled-meat aromas and, best of all, abundant plummy fruit. Full black-fruit and pleasant "tarry" notes on the palate. The only sign of age is a distant walnutty note to suggest encroaching oxidation, becoming more evident after an hour or two in the glass. I wouldn't cellar it much longer, but at this price I'll probably go back for a couple more. U.S. importer: C&B Vintage Cellars, San Francisco. (Oct. 29, 1999)
FOOD MATCH: It would be hard to find a better match with pan-grilled boneless duck breasts.

Have you tasted this wine?
E-mail me your tasting notes,
and I'll consider adding them to this page.
All my wine-tasting reports are consumer-oriented. In order to maintain objectivity and avoid conflicts of interest, I purchase all the wines I rate at my own expense in retail stores.
Back to Current Tasting Notes Index