GETTING STARTED | WINE NOTES | SEARCH SITE | DISCUSSION FORUMS | 30 SECOND WINE ADVISOR | CONTACT US
<!TODAY'S TEXT STARTS HERE!>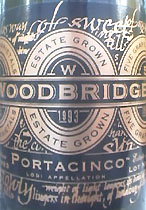 Woodbridge 1993 Lodi (California) "Portacinco" ($13.99)
I'm not usually overwhelmed by American (or, for that matter, Australian) Port-style wines, feeling that the quality and style of the Portuguese original is so hard to match that imitations, no matter how flattering, always fall short.
But this unusual item (which, to its credit, borrows the name "Port" only indirectly) comes unexpectedly close. Made at the huge commercial facility primarily used for Mondavi's budget wines, "Portacinco" is made in small quantities from a 4.5-acre vineyard baked under the Central Valley sun, where all five of the traditional Oporto grape varieties (Touriga, Alverhão, Bastardo, Souzão and Turacão) are grown in an effort to emulate the original as closely as possible in both fruit and wine-making style.
The wine is an inky dark ruby color, with rich black fruit, stone fruit and vinous alcoholic aromas; it certainly smells like a Port! Stone fruit, plums and prunes on the palate offer a pleasant, rich but not cloying sweetness well balanced with lemony acidity; firm tannins are cloaked with substantial fruit. It may not be as full-bodied or as tannic as a Vintage Port, but I think it would stand up more than adequately in a "blind" tasting against the major Port houses' Ruby Ports in the same general price range. Quite a pleasant surprise! (Oct. 28, 1999)
FOOD MATCH: Served for after-dinner enjoyment, it shows nicely against a bit of very sharp Cheddar cheese.

Have you tasted this wine?
E-mail me your tasting notes,
and I'll consider adding them to this page.
All my wine-tasting reports are consumer-oriented. In order to maintain objectivity and avoid conflicts of interest, I purchase all the wines I rate at my own expense in retail stores.
Back to Current Tasting Notes Index