GETTING STARTED | WINE NOTES | SEARCH SITE | DISCUSSION FORUMS | 30 SECOND WINE ADVISOR | CONTACT US



Il Podere dell'Olivos 1997 Moana Arrossisce ($9.99)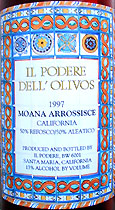 This bizarre Italian-style wine made in Southern California's Santa Barbara region may not separate the men from the boys, but when we served it to friends at dinner it divided the men and the women: Two guys thought it was fun, if weird; two women hated it. Bright reddish-amber in color, it blasts a remarkable minty strawberry scent from the glass with more than a hint of bubble gum. Bone-dry yet crisply fruity, with a tickle of petillance on the tongue and a taste of not-quite-ripe persimmons, it's clean and fresh, with a distinct bitter quality in a long finish. An odd blend of Refosco and Aleatico grapes in equal proportions. My conclusion: Imagine a dry, alcoholic Big Red. (Oct. 25, 2000)

FOOD MATCH: Works well enough to wash down long-cooked pork carnitas with tortillas.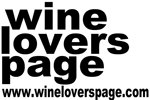 NEW!
Wine notes in 'shelf-hanger' format:


We are now publishing Wine Lovers' Page wine reports in the familiar "shelf-hanger" size and format, to make it easy for wine merchants or collectors to print them out, clip and post them where this wine is displayed. We do ask, however, that the Wine Lovers' Page name and URL be left intact, and that these reports be used with the specific wines rated, not different bottlings or vintages.


All my wine-tasting reports are consumer-oriented. In order to maintain objectivity and avoid conflicts of interest, I accept no free samples from wineries or distributors, purchasing all the wines I rate at my own expense in retail stores.

Have you tasted this wine?
E-mail me your tasting notes, and I'll consider adding them to this page.
<!TODAY'S TEXT ENDS HERE!>
Previous day's wine note
Back to Current Tasting Notes Index