GETTING STARTED | WINE NOTES | SEARCH SITE | DISCUSSION FORUMS | 30 SECOND WINE ADVISOR | CONTACT US
<!TODAY'S TEXT STARTS HERE!>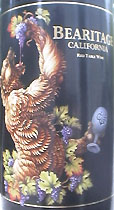 Bearitage non-vintage California Red Table Wine ($8.99)
Made by the Sonoma firm Gundlach-Bundschu, this simple table wine demonstrates the fine quality that California wineries can achieve, when they make the effort, with relatively simple fruit and inexpensive wines. Dark ruby in color, it shows good dark fruit aromas defined by juicy black raisins. Tart-cherry and lemon-squirt flavors are structured and ripe, clean and consistent in a long finish. Remarkably good for an inexpensive, non-vintage table wine; it's a blend of Cabernet Sauvignon, Merlot and Zinfandel. (Oct. 17, 1999)
FOOD MATCH: Makes a good match with a ham-and-Cheddar frittata.

This wine was featured in The 30 Second Wine Advisor, my free weekly E-mail bulletin of quick wine tips, advice and tasting notes. Click here to join the E-mail list!

Have you tasted this wine?
E-mail me your tasting notes,
and I'll consider adding them to this page.
All my wine-tasting reports are consumer-oriented. In order to maintain objectivity and avoid conflicts of interest, I purchase all the wines I rate at my own expense in retail stores.
Back to Current Tasting Notes Index