<!TODAY'S TEXT STARTS HERE!>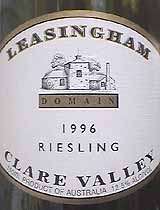 Leasingham 1996 Clare Valley (Australia) Riesling ($7.99)
Clear straw color. Crisp, ripe apple scents dance with a delicious citric aroma reminiscent of limes -- a characteristic that seems consistent in the few Australian Rieslings I've tried. Fresh and tart citric fruit flavors are clean and lasting, dry or near it. Tasted "blind," I'd be hard-pressed to identify this as a Riesling by European standards; but taken on its own, it's a very good wine indeed, and an extremely good value. (Oct. 16, 1998)

FOOD MATCH: I am not kidding about this: It made a very good match with pan-grilled smoked pork chops with sauerkraut laced with caraway seeds and brown ale.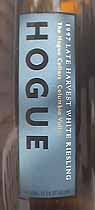 Hogue 1997 Columbia Valley (Washington State) Late Harvest White Riesling ($8.99)
Pale gold in color. Very light, pleasant scent of pears. Full-bodied, unctuous, honey-sweet and citric, pears and tangerines, with an odd and very noticeable bitterness in the flavor that seems to increase in the finish. Interesting wine, doesn't show much of what I'd call typical Riesling character, but there's sufficient complexity here to make this one worth notice at its single-digit price. (Oct. 15, 1998)

FOOD MATCH: Surprisingly tasty with pizza topped with roasted peppers.


LABEL NOTES: The back label reports that the grapes achieved 24.4% brix at harvest and that the wine's residual sugar is 4.6% by weight, substantiating the palate impression that it's sweet but well short of a dessert wine. The label points consumers to Hogue's Website, www.hogue-cellars.com.

Have you tasted this wine?
E-mail me your tasting notes,
and I'll consider adding them to this page.

All my wine-tasting reports are consumer-oriented. In order to maintain objectivity and avoid conflicts of interest, I purchase all the wines I rate at my own expense in retail stores.