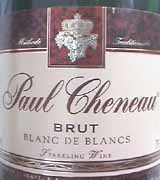 Paul Cheneau (Spain) non-vintage Brut Blanc de Blancs ($7.99)
Clear, pale greenish-gold, with a frothy mousse that dissipates fast. Clean, fresh apple and yeast aromas and a foamy mouthfeel with light fruit flavors, dry and crisp. It remains dry and tart as it warms in the glass, without the cloying sweetness that afflicts many cheap sparklers in this price range. U.S. importer: "21" Brands, NYC. (Oct. 2, 1998)

FOOD MATCH: Makes a surprisingly happy marriage with Cantonese-style shrimp with "lobster" sauce, aromatic with black beans and garlic.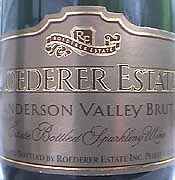 Roederer Estate non-vintage Anderson Valley (California) Brut ($17.99)
Very pale straw color. Frothy white foam fills the glass and persists. Simple, pleasant scent of fresh apples and yeast, with a tropical whiff of something like papaya. Foamy mouthfeel, otherwise crisp and tart. Light and a little short. Not at all unpleasant, but fails to justify its price differential over the Spanish wine. (Oct. 5, 1998)

FOOD MATCH: Works well with a down-to-earth dinner of chicken fricaseed with onions and green bell peppers.


Have you tasted these wines?
E-mail me your tasting notes,
and I'll consider adding them to this page.

All my wine-tasting reports are consumer-oriented. In order to maintain objectivity and avoid conflicts of interest, I purchase all the wines I rate at my own expense in retail stores.