<!TODAY'S TEXT STARTS HERE!>

Two California Chenin Blancs

An online discussion about Chenin Blanc and whether it makes a wine of much credibility in California (at least as compared with the heights it can reach in the Loire in France) prompted me to try a couple of low-end Chenins from the Golden State. My conclusion: Ho, hum. They're certainly not bad wines, but they simply lack the interest that makes some wines in the budget price range worth more attention.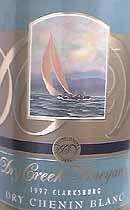 Dry Creek Vineyard 1997 Clarksburg (California) Dry Chenin Blanc ($7.59)
Clear, pale straw color. Simple fruit, pear and apple scents. Crisp, tart and slightly sweet flavor, barely perceptible behind fresh, zippy acidity. Pleasant quaffing wine, but very simple and one-dimensional. The back label claims the wine is "fashioned in the traditional Loire Valley style." Sorry. I don't think so. (Oct. 1, 1998)
FOOD MATCH: Decent match with smoked whitefish tossed over pasta.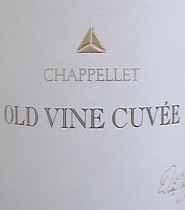 Chappellet 1995 "Old Vine Cuvée Napa Valley White Table Wine ($7.49)
Clear brass color. Chestnuts and tropical fruit aromas, oaky and reminiscent of California Chardonnay. Full, ripe and buttery, Chardonnay-like on the palate as well, but at least it's dry and structured rather than sweet and fat. In a way it's a better "Chardonnay" for under $8 than you'd have any right to expect of the real thing. But Chenin Blanc? Nope. (Sept. 29, 1998)
FOOD MATCH: OK with grilled chicken.

Have you tasted these wines?
E-mail me your tasting notes,
and I'll consider adding them to this page.
All my wine-tasting reports are consumer-oriented. In order to maintain objectivity and avoid conflicts of interest, I purchase all the wines I rate at my own expense in retail stores.