<!TODAY'S TEXT STARTS HERE!>

Four flawed reds

I seem to have been on an unfortunate wine-tasting streak during the past few days, one night after another opening mid-range red wines with high hopes only to find each somehow flawed. Of the four, only the last is so flawed as to rate a "not recommended" rating; but each in its own way proved disappointing.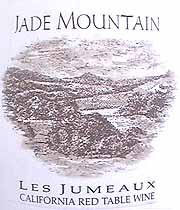 Jade Mountain 1994 "Les Jumeaux" California Red Table Wine ($13.99)
Inky dark reddish-purple, this wine opens up with startling aromas of blueberries, pumpkin-pie spice and a whiff of that odd, characteristic "tree bark" that I associate with Mourvèdre. (It's a blend of grapes from Bordeaux -- Cabernet Sauvignon -- and the Rhone -- Syrah and Mourvè, hence its French name, "The Twins.") Flavors are full and forward, tart and so fruity that it almost conveys an impression of sweetness; cherry-berry fruit and lemon-squirty acidity lingering in a long, clean finish. Impressive wine -- but within 30 minutes after opening, the fruit has fled, leaving behind a dry, vinous beverage with only a memory of what it was like at first. Very strange. (Sept. 22, 1998)
FOOD MATCH: Good -- while the flavor lasts -- with old-fashioned beef-stuffed green peppers.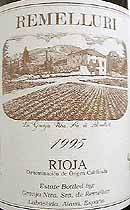 Remelluri 1995 Rioja ($17.49)
Inky dark ruby, almost opaque. Black fruit and spicy oak aromas, with an unfortunate dank quality reminiscent of old barrels. Full, juicy fruit flavor and mouth-filling acidity, robust tannins becoming evident in the finish. More Rioja-like and not as much an international-style "world wine" as the 1994, but the less-than-pleasant barrel scent knocks off points. U.S. importer: Cutting Edge Selections Inc., Cincinnati. (Sept. 25, 1998)
FOOD MATCH: Good with grilled leg of lamb.

Rosemount 1995 "Traditional" ($14.99)
Opaque blackish-purple. Spicy oak takes the lead in the aroma, with blackberry fruit running a distant second. Sweet oak is present, but not as dominant, in the full, ripe and juicy flavor, with lemon-squirt acidity and heavy tannins providing a firm structure. A decent wine, good with food, but whatever "tradition" is being honored here, it's certainly not Bordeaux. (The wine is a Bordeaux-style blend, however, made from 70 percent Cabernet Sauvignon, 30 percent Merlot and 10 percent Petit Verdot.) U.S. importer: Rosemount Estates Inc., Sonoma, Calif. (Sept. 26, 1998)

Stony Ridge 1995 California Sangiovese ($11.99)
Clear, dark cherry red. "Grilled-meat" aroma, and very rare meat at that, without much evidence of fruit. Simple, juicy red-fruit flavor, a little more palatable than the nose suggests, but the entire experience is very much like chowing down on a haunch of undercooked venison. Not recommended. (Sept. 26, 1998)

FOOD MATCH: Both the above served with char-grilled chicken. The Australian wine's not a bad match, although its intense oakiness makes it iffy with any food. The California red is frankly a little too unpleasant to be appetizing.

Have you tasted these wines?
E-mail me your tasting notes,
and I'll consider adding them to this page.

All my wine-tasting reports are consumer-oriented. In order to maintain objectivity and avoid conflicts of interest, I purchase all the wines I rate at my own expense in retail stores.