GETTING STARTED | WINE NOTES | SEARCH SITE | DISCUSSION FORUMS | 30 SECOND WINE ADVISOR | CONTACT US

<!TODAY'S TEXT STARTS HERE!>

Three cut-rate Barolos

I picked up all three of these Barolos in bargain bins for $20 each, a price tag that's approaching the high end for most wines but is scraping the bottom of the barrel for Barolo. Two proved disappointing for different reasons, as noted below. One was fine ... and hey, a .333 batting average isn't bad for baseball or Barolo.

For more tips on prowling the bargain bins, see this week's 30 Second Wine Advisor.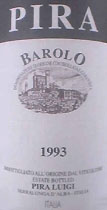 Pira 1993 Barolo ($19.99)
Very dark ruby, with classic Barolo aromas of tar and smoke, violets and a whiff of licorice playing counterpoint to deep black fruit. Black-cherry fruit shows in a full-bodied flavor framed by lemony acidity and firm tannins, with subtleties that echo the nose. Fine Barolo, will continue to improve with cellar time. U.S. importer: Vintner Select, Cincinnati; a Marc de Grazia Selection (Sept. 18, 1999)
FOOD MATCH: Perfect with "tannin-wiping" beef in the form of a medium-rare pan-grilled T-bone.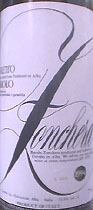 Ceretto 1994 Barolo Zonchera ($19.99)
Given that 1994 was such an off vintage for Barolo that most references don't even list it, and that Ceretto's "Zonchera" bottling is explicitly produced as "softer, rounder and more supple than traditional Barolos," there was no reason to expect classic structure or style from this bottle. But it's pleasant enough, clear ruby in color with red-fruit and floral scents, and a fresh, bright cherry-berry flavor, fruity and tart. A fair wine, but not competitive at this price, even with the name "Barolo" on the label. U.S. importer: Palace Brands Co., Hartford, Ct. (Sept. 14, 1999)
FOOD MATCH: Good match for pork loin braised with onions, probably a better match than a more robust Barolo would have made.

Fontanafredda 1993 "Galarey" Barolo ($19.99)
This wine shows a brownish-amber glint in its dark ruby color, a worrisome sign in a wine so young. Black fruit and violets and characteristic Barolo "tar" show up in the aroma, but there's a nutty edge of oxidation there; and a whiff of the same in a warm, plummy and surprisingly one-dimensional flavor suggest that this wine has been "cooked," subjected to excess heat or other ill treatment along the way. It's not ruined, but certainly falls short of expectations, demonstrating one not-so-good reason for a wine to turn up in the bargain bin. U.S. importer: Brown-Forman Beverages Worldwide, Louisville. (Sept. 13, 1999)
FOOD MATCH: A little too plummy and ripe to be a perfect match with an Arabian-style chicken and rice pilaf.

These wines were featured in The 30 Second Wine Advisor, my free weekly E-mail bulletin of quick wine tips, advice and tasting notes. Click here to join the E-mail list!

Have you tasted these wines?
E-mail me your tasting notes,
and I'll consider adding them to this page.
All my wine-tasting reports are consumer-oriented. In order to maintain objectivity and avoid conflicts of interest, I purchase all the wines I rate at my own expense in retail stores.
Back to Current Tasting Notes Index