<!TODAY'S TEXT STARTS HERE!> An "everyday" wine? Perhaps. But with Georges Duboeuf having become so dominant in the field of Beaujolais (at least in the U.S.) with its banana-scented "house style" that I don't much like, I find it useful to recalibrate occasionally with a taste of Jadot's much "cleaner" rendition, which is probably a strong No. 2 to Duboeuf in this country and, in my opinion, much more enjoyable.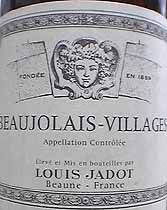 Louis Jadot 1997 Beaujolais-Villages ($7.99) Best Buy!
Dark ruby color. Ripe black-cherry and strawberry aromas, full and fresh. Very fruity flavor, sweet and tart as blackberry jam, with a lemon-squirt of acidity to provide structure and balance. Sipping it is like eating ripe fruit, and that's what Beaujolais is all about. Like most Beaujolais, it's refreshing served cool (but not ice-cold) so it benefits from 30 to 60 minutes in the fridge before dinner. U.S. importer: Kobrand Corp., NYC. (Sept. 14, 1998)
FOOD MATCH: I served it with a cold smoked-salmon paté, thinking that the affinity between salmon and Pinot Noir might carry over to the Gamay of Beaujolais. The match worked, but wasn't ideal, frankly; the salmon heightened the wine's acidity at the expense of the fruit, leaving a slightly sour impression.

Have you tasted this wine?
E-mail me your tasting notes,
and I'll consider adding them to this page.
All my wine-tasting reports are consumer-oriented. In order to maintain objectivity and avoid conflicts of interest, I purchase all the wines I rate at my own expense in retail stores.