<!TODAY'S TEXT STARTS HERE!>

Two mid-range Chardonnays

New Zealand whips California in this head-to-head match of mid-range Chardonnays. The Villa Mt. Eden isn't bad, but a whopping dose of oak and a fat, one-dimensional character betray its adherence to the unfortunate current style of Golden State Chardonnay. The Morton Estate, however, is a gem, with crisp, tart lime-juice acidity framing fresh, clean and apple-like Chardonnay fruit. My choice is clear.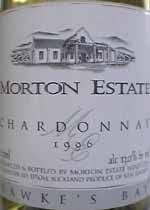 Morton Estate 1996 Hawke's Bay (New Zealand) Chardonnay ($15.99)
Clear gold. Pineapple and spicy oak aromas lead into a full, bright flavor, fresh apples and a squirt of lime juice framing a good acidic structure. More in the New World style than the Old, but the fruit is fresh, the oak integrated and the finish tart and dry; the combination makes it a winner. importer: Empson (USA) Inc., Alexandria, Va. (Sept. 11, 1998)
FOOD MATCH: Very good indeed with grilled bluefish.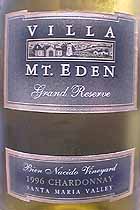 Villa Mt. Eden 1996 Grand Reserve Bien Nacido Vineyard Santa Maria Valley (California) Chardonnay ($15.99)
This one came highly recommended by a usually reliable retailer who assured me, "It isn't like most California Chardonnays." I'm not sure I can go along with that. It's better than most, yes, but it's certainly within the current style, oaky and fat. It's a clear, bright brass color, with an aroma that shouts "OAK!" and only then whispers "pineapple." To its credit, it's not obviously sweet and not buttery enough to spread on hot toast. But that potent, unbalanced oak character keeps it from getting an "A" or even a "B" in my grade book, and for $16, that's the end of the story. (Sept. 13, 1998)

FOOD MATCH: Veal chops sauteed with onions.


Have you tasted these wines?
E-mail me your tasting notes,
and I'll consider adding them to this page.

All my wine-tasting reports are consumer-oriented. In order to maintain objectivity and avoid conflicts of interest, I purchase all the wines I rate at my own expense in retail stores.