GETTING STARTED | WINE NOTES | SEARCH SITE | DISCUSSION FORUMS | 30 SECOND WINE ADVISOR | CONTACT US
<!TODAY'S TEXT STARTS HERE!>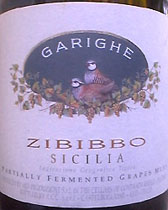 Garighe non-vintage Zibibbo Sicilia ($11.99)
Is it wine, or is it fruit juice? Actually, it's something in between. This luscious drink is sold as "partially fermented grapes must," a beverage of fresh Zibibbo (Muscat of Alexandria) grapes briefly fermented, then stabilized and bottled at just 3 percent alcohol, while the delicious grape juice is still fresh and naturally sweet. A very pale gold in color, it's not fully carbonated like a sparkling wine, but tiny bubbles line the glass and prickle the tongue. Light, fresh grapefruit and peach aromas show the Muscat character, and its flavor is crisp, prickly, very sweet, but with sufficient acidity to keep the fruit sugar from cloying. It's sort of like an Asti Spumante "lite," but frankly, the fruit is fresher and more natural, making for a refreshing drink that you can safely quaff. U.S. importer: Winebow Inc., NYC, Leonardo Locascio Selections (Sept. 10, 1999)
FOOD MATCH:Works well with a flavorful dish of pork loin braised in white wine with fresh green figs.

Have you tasted this wine?
E-mail me your tasting notes,
and I'll consider adding them to this page.
All my wine-tasting reports are consumer-oriented. In order to maintain objectivity and avoid conflicts of interest, I purchase all the wines I rate at my own expense in retail stores.
Back to Current Tasting Notes Index