<!TODAY'S TEXT STARTS HERE!>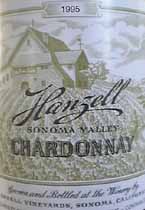 Hanzell 1995 Sonoma Valley Chardonnay ($31.99)
Although $32 is well above my usual threshold of pain for everyday wine, and doubly so for California Chardonnay, I love Hanzell's product and make a conscious choice to break the budget when each new vintage arrives. It's a clear, bright gold color, with delicious scents of apples, pears and discreet oak. Big, rich and full flavors, apple fruit, tart acidity and a firm texture and warmth. Oak is a little more evident than in last year's vintage, it seems, and it's a bit awkward in its youth. Still, all the elements are present, and I'm eager to try it again in a year's time. (Sept. 10, 1998)

FOOD MATCH: Perfect with sea bass crusted with chopped pine nuts and pan-fried, an entree based on a recipe from Pierre Franey and Brian Miller's The Seafood Cookbook and explicitly chosen to go with this wine.

Have you tasted this wine?
E-mail me your tasting notes,
and I'll consider adding them to this page.

All my wine-tasting reports are consumer-oriented. In order to maintain objectivity and avoid conflicts of interest, I purchase all the wines I rate at my own expense in retail stores.