<!TODAY'S TEXT STARTS HERE!>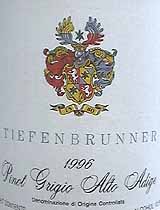 Tiefenbrunner 1996 Alto Adige Pinot Grigio ($8.99)
This hearty dry white comes from Alto Adige in the northernmost corner of Italy, a region once held by Austria, where a lot of the natives still have names like, well, Tiefenbrunner. It's a clear, bright straw color, with ripe melon and aromatic piney aromas and a ripe, tart flavor, structured and firm, more full-bodied and robust than you might expect of a Pinot Grigio. It's a good food wine and a very good value. U.S. importer: Winebow Inc., NYC, a Leonardo Loscasio Selection. (Sept. 8, 1998)

FOOD MATCH: Fine with ossobuco bianco with a simple risotto and braised finocchio.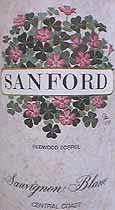 Sanford 1997 Central Coast (California) Sauvignon Blanc ($12.99)
This particular label has undergone a sea change in recent vintages. Once one of California's most dramatic expression of Sauvignon Blanc in the "grassy," "catty" style, it's moved well away from that, becoming a big, even muscular white wine with stunning (14 percent) alcohol and a blend of citric and oaky flavors. It's still impressive, though, clear bright greenish-gold with ripe citric and spice scents and perhaps just a hint of green bell pepper. Very big and full flavors, peaches and pears surrounded by nuances that follow the nose, warm and strong and long in the finish. (Sept. 7, 1998)

FOOD MATCH: Works well with spaghetti with a "salsa cruda" of fresh uncooked tomatoes, fresh mozzarella and pesto.

Have you tasted these wines?
E-mail me your tasting notes,
and I'll consider adding them to this page.

All my wine-tasting reports are consumer-oriented. In order to maintain objectivity and avoid conflicts of interest, I purchase all the wines I rate at my own expense in retail stores.