<!TODAY'S TEXT STARTS HERE!>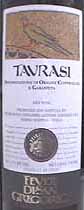 Feudi di San Gregorio 1993 Taurasi ($21.99)
The Taurasi region above Naples in Southern Italy is almost synonymous with the Mastroberardino winery, which makes a lot of it and does so very well. But this high-end offering from the much less-known maker Feudi di San Gregorio is a revelation, a wine with the complexity and elegance to compete on its own terms with the generally more highly regarded wines of Italy's north. It's made from the Aglianico grape, an ancient variety also showcased in the Paternoster Aglianico del Vulture that I tasted last month. It's a clear, dark ruby color. Appetizing spicy oak and ripe black-cherry fruit aromas lead into an impressive flavor, ripe and juicy tart-cherry fruit with hints of bookbinder's leather and aromatic spices like fennel and sage. Substantial acidity forms a sturdy structure, with soft tannins barely evident beneath the fruit. Very fine wine. U.S. importer: Winebow Inc., NYC; Leonardo LoCascio Selections. (Sept. 6, 1998)

FOOD MATCH: Works very well indeed with char-grilled chicken with a Greek-style marinade of lemon, garlic and oregano.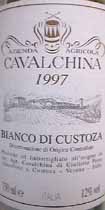 Cavalchina 1997 Bianco di Custoza ($9.99)
Pale straw color. Pleasant melon and grassy scents. Tasty fruit flavor, citrus and sweet green-pea, well balanced with crisp acidity, with perhaps just a hint of fresh-fruit sweetness; good body and good balance. This Veronese white is said to be a cousin of Soave, but I find it a lot more interesting than most of its kin. U.S. importer: Vin DiVino, Chicago. (Sept. 4, 1998)

FOOD MATCH: Ideal choice with a light summer vegetarian dinner of caprese (fresh tomatoes with fresh mozzarella and basil) and lima beans and crusty Southern Italian bread.

Have you tasted these wines?
E-mail me your tasting notes,
and I'll consider adding them to this page.

All my wine-tasting reports are consumer-oriented. In order to maintain objectivity and avoid conflicts of interest, I purchase all the wines I rate at my own expense in retail stores.