GETTING STARTED | WINE NOTES | SEARCH SITE | DISCUSSION FORUMS | 30 SECOND WINE ADVISOR | CONTACT US
<!TODAY'S TEXT STARTS HERE!>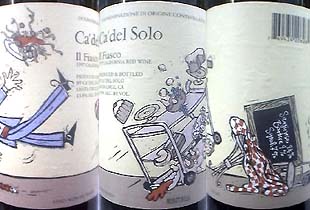 Bonny Doon 1997 "Il Fiasco" California Red Wine ($14.99)
In English, "fiasco" means an utter, chaotic failure, based on Franco-Italian slang. In Italian, the word originally means a bottle, akin to "flask," and in particular the kind of wicker-wrapped bottle long associated with Chianti and often converted into candlesticks. In a friendly salute to the fine Italian style of his "Ca' del Solo" line of wines, Bonny Doon's off-the-wall wine maker Randall Grahm's colorful label depicts a noisy fiasco indeed.
The wine in the bottle's not bad either, a fair California imitation of a ripe young Chianti. Dark garnet in color, it breathes perfumed black-fruit aromas, plummy and overripe, with juicy black cherries and plums on the palate. A bit more on the soft and fruity side than the genuine Tuscan article, it's certainly the American descendant of Italian ancestors, a good quaff at a competitive price. (Sept. 5, 1999)
FOOD MATCH: Just as a Chianti would, it makes a fine match with a summer meal of pesto over pasta and a cooling caprese, sliced tomatoes topped with fresh mozzarella and lots of basil.

Have you tasted this wine?
E-mail me your tasting notes,
and I'll consider adding them to this page.
All my wine-tasting reports are consumer-oriented. In order to maintain objectivity and avoid conflicts of interest, I purchase all the wines I rate at my own expense in retail stores.
Back to Current Tasting Notes Index