GETTING STARTED | WINE NOTES | SEARCH SITE | DISCUSSION FORUMS | 30 SECOND WINE ADVISOR | CONTACT US

<!TODAY'S TEXT STARTS HERE!>

Que Syrah, (Petite) Sirah

As noted in this week's 30 Second Wine Advisor, the conventional wisdom holds that Petite Sirah is a coarse, "lesser" grape, without the style or the class or the noble heritage of the unrelated grape with which it shares a similar name: Syrah.

But the conventional wisdom only works when all other things are equal. In recent tastings comparing California Petite Sirahs against California Syrahs of similar vintage and price, I've found little consistency, and would be hard pressed to argue that one or the other is better.

Here, presented in order of my preference, are two of each.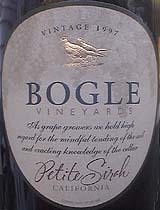 Bogle Vineyards 1997 California Petite Sirah ($8.99)
Inky dark reddish-purple, with pleasant, mellow black-fruit, green bell pepper and fragrant black-pepper aromas. Flavors follow the nose, appetizing fruit, pepper and lemon-squirt acidity. A surprisingly stylish Petite Sirah at a low-end price. (Aug. 15, 1999)
FOOD MATCH: Excellent with pollo al diablo, grilled chicken breasts with a lemon marinade and a sprinkle of red-pepper flakes.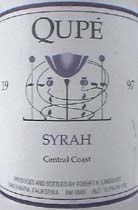 Qupe 1997 Central Coast Syrah ($13.99)
Very dark ruby, with a forward scent of almost over-ripe plummy fruit and an odd, anise-like aromatic. Full, rich and almost sweet, jammy black fruit is balanced by tart acidity. (Sept. 3, 1999)
FOOD MATCH:Fine with a simple chicken sautee finished with a lemon-butter pan sauce.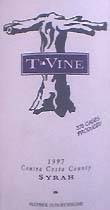 T-Vine 1997 Contra Costa County Syrah ($19.99)
Very dark garnet in color, with a disconcerting blast of oaky vanilla overpowering the aroma at first, ripe blueberry fruit peeking out shyly from behind it. Big, warm and strong, oak and fruit contend for the lead in its mouth-filling flavor. (Aug. 15, 1999)
FOOD MATCH: A little too much wood and power for the pollo al diablo.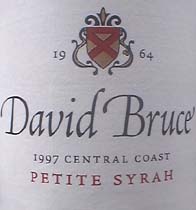 David Bruce 1997 Central Coast Petite Sirah ($15.99)
Inky dark reddish-purple. Oak dominates the aroma and flavor. Woody, aromatic oak, like the smell of a power saw buzzing through planks. Some ripe, juicy fruit punches through the oaky vanillins on the palate, but it's tough going. (Sept. 3, 1999)
FOOD MATCH:Washes down the chicken sautee mentioned above, but the oak makes it an iffy food wine.

These wines were featured in The 30 Second Wine Advisor, my free weekly E-mail bulletin of quick wine tips, advice and tasting notes. Click here to join the E-mail list!

Have you tasted these wines?
E-mail me your tasting notes,
and I'll consider adding them to this page.
All my wine-tasting reports are consumer-oriented. In order to maintain objectivity and avoid conflicts of interest, I purchase all the wines I rate at my own expense in retail stores.
Back to Current Tasting Notes Index