<!TODAY'S TEXT STARTS HERE!>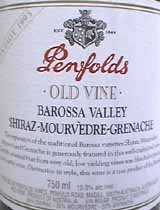 Penfolds 1995 Old Vine Barossa Valley Shiraz-Mourvèdre-Grenache ($16.99)
Very dark ruby color, almost black. Spicy oak and black-fruit aromas with earthy notes of leather and "forest floor," perhaps signaling the Mourvèdre. Delicous fresh-fruit flavor, clean and tart; cherry-berry and apple-skin elements with pleasant earthy nuances that follow the nose. U.S. importer: Southcorp Wines North America, Monterey, Calif. (Sept. 2, 1998)

FOOD MATCH: Good match with lamb chops with garlic and rosemary.

Penfolds 1996 Bin 2 South Eastern Australia Shiraz/85%-Mourvèdre/15% ($9.99)
Inky dark purple. Black fruit and anise over spicy oak aromas, oaky but appealing. Bright, jammy fruit structured with citric acidity, snappy and fresh. Not as harsh or tannic as some previous Bin 2 vintages in their youth, but a big, approachable mouthful of wine and a very good value. U.S. importer: Southcorp Wines North America, Monterey, Calif. (Sept. 1, 1998)

LABEL NOTES: A blend predominantly from Swan Hill and the Barossa Valley districts of South Eastern Australia. Curiously for a modest wine, the back label suggests that the wine be both decanted and "breathed," to separate it from its sediment and to open in the glass or decanter.

FOOD MATCH: Excellent with pan-grilled strip steaks and onions.

Have you tasted these wines?
E-mail me your tasting notes,
and I'll consider adding them to this page.

All my wine-tasting reports are consumer-oriented. In order to maintain objectivity and avoid conflicts of interest, I purchase all the wines I rate at my own expense in retail stores.