GETTING STARTED | WINE NOTES | SEARCH SITE | DISCUSSION FORUMS | 30 SECOND WINE ADVISOR | CONTACT US
<!TODAY'S TEXT STARTS HERE!>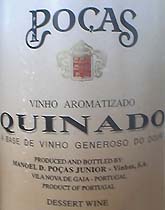 Pocas Vinho Aromatizado Quinado ($12.99)
A Port-style dessert wine flavored with quinine, the bitter tropical bark that's used to combat malaria and to flavor sparkling tonic water? The concept was so bizarre, even a bit repulsive, that it held an irresistible attraction; and its credentials, coming from the Port house Pocas Junior, were more than passable. "Try it," the wine merchant said. "It's ... different."
And so it is. To my pleased surprise, the quinine flavor was muted, and the wine made a decent quaff after a light summer supper. Dark ruby in color with an orange glint, it shows black-fruit aromas with just a whiff of Schweppes' Tonic - I'm not sure I'd have recognized it as such without advance knowledge of the wine's secret ingredient. Soft, warm and sweet on the palate, it shows just a faint hint of quinine bitterness, and a pleasant milk-chocolate flavor that seems to increase as the wine opens up in the glass. Not a great Port by any means, but certainly a pleasant experience in the infinitely variable world that is wine. U.S. importer: World Shippers & Importers, Philadelphia. (Sept. 1, 1999)
FOOD MATCH: Served by itself as an after-dinner drink.

Have you tasted this wine?
E-mail me your tasting notes,
and I'll consider adding them to this page.
All my wine-tasting reports are consumer-oriented. In order to maintain objectivity and avoid conflicts of interest, I purchase all the wines I rate at my own expense in retail stores.
Back to Current Tasting Notes Index