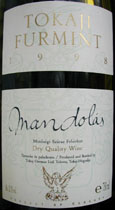 Oremus 1998 Mandolás Tokaji Furmint Minöségi Száraz Fehérbor Dry Quality Wine ($7.99)
Clear straw color, this Hungarian wine bears little resemblance to the great dessert wine Tokaji with which it shares the grape of origin, but it's pleasant enough and a good value. Fresh aromas of melon and spice and a light, clean and dry flavor make for a snappy aperitif or table wine with spicy notes in a long finish. U.S. importer: Europvin USA, Emeryville, Calif. (Sept. 1, 2000)

FOOD MATCH: A heavy German dinner of sauerbraten with a tangy, traditional ginger-snap sauce is really too much for the Dôle, which doesn't exactly war with the meat but is simply overwhelmed. Surprisingly, the tart acidity of the whites makes them better companions for the main dish.

The Swiss wine was featured in The 30 Second Wine Advisor, my free weekly E-mail bulletin of quick wine tips, advice and tasting notes. Click here to join the E-mail list!

Have you tasted these wines?
E-mail me your tasting notes,
and I'll consider adding them to this page.
All my wine-tasting reports are consumer-oriented. In order to maintain objectivity and avoid conflicts of interest, I purchase all the wines I rate at my own expense in retail stores.
Back to Current Tasting Notes Index